What are 'Local Services Ads'?
Simply put, Local Services Ads make it easy for local providers to connect with people who search on Google for the services they offer.
Potential new customers can see business information, read reviews and get in touch – all directly within the ad. With the Google Guarantee badge, potential customers will know that the services they book are with a qualified, trusted professional – and their satisfaction is backed by Google. There's no better trust signal out there than being guaranteed by Google, right? Read on to find out how to get the Google Guaranteed badge...
Key things to note:
Local Services Ads are not a replacement for Google Ads (so you can breathe a sigh of relief). It works in conjunction with Google Ads as a complementary ad product (a cheeky way of Google making a little more money and punishing SEO efforts a little more!).
Both Local Services Ads & Google Ads can also cater to different audiences:
Local Services Ads are for local users who prefer to check out very brief and specific details (reviews, services offered, photos, seeing the Google Guaranteed badge) which may be enough for the user to make that call.

Google Ads are for audiences who prefer to do more research by going to the website before deciding on whether to interact with the business or not.
Local Services Ads is a lead generation-based product. It's not your usual Cost-Per-Click (CPC) that you will find on your search ads; instead, it is charged on a Cost-Per-Lead (CPL) basis.
Which businesses are Local Services Ads for?
This platform was in Beta for a long time and is something that Google has clearly created to take on the big business/service listing sites. As a result, Google are offering this ads platform to the following service industries:
Appliance Repair
Carpet Cleaning
Electrical
Garage Doors
House Cleaning
HVAC
Lawn Care
Moving
Pest Control
Plumbing
Roofing
Rubbish Removal
Tree Surgeon
Water Damage Services
Window Cleaning
Window Services
What do Local Services Ads look like?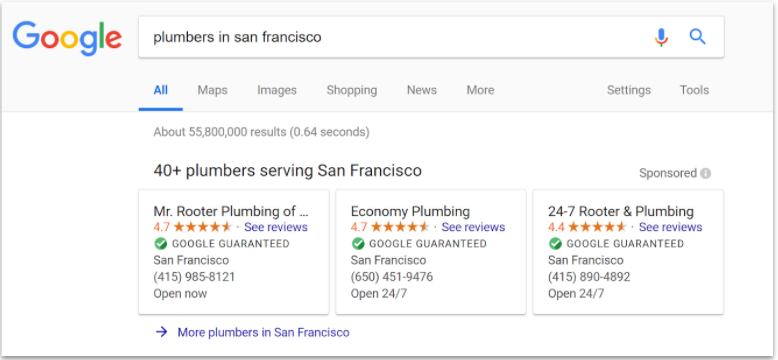 Local Services Ads will always feature 2-3 providers at the very top of Google's SERP (Search Engine Results Page). A slight caveat here - there needs to be at least two providers per area to fill the two ad placements on mobile and three providers for the three ad placements on desktop view in order for the ad to appear on search results.
As a result, you better hope you have some of your competitors doing it too, otherwise you won't show - so no Monopoly here! In some areas, there are only a few competitors who are Google Guaranteed, presenting an opportunity for new onboarded businesses to increase their likelihood of appearing in the top position.
What are the benefits?
Google give four very simple benefits of these ads:
Show up on search results

Providing that the above criteria is met, obviously!

Only pay for results

Remember, it's a cost-per lead model, so don't set this at an unrealistically low level otherwise you will get nothing.

Get leads & book local jobs with no hassle

Pause your ads at any time

We're not sure how this became a benefit, maybe they ran out of ideas. Nonetheless, it's still useful to know that you can stop if overworked!
How to get the Google Guaranteed badge
To get a Google Guaranteed badge, Google goes through a rigorous vetting process where you have to provide Licenses, Business Registration information, Insurance documentation, and 1+ review your Google My Business listing or collect a customer review through a custom vanity review link which can be selected in the Business Verification > Customer Reviews > See link options section.
Here's how it looks for the license requirements:
Business Categories

License Requirements (one of:)

electrician

-Registration with the NICEIC competent person scheme

-Electrical Competent Person Scheme ("CPS") Registration

-NAPIT Certificate of Approval

-Stroma-Certified Member No.

-ELECSA Certificate

-Electrotechnical Certification Scheme ("ECS") Registration

-OFTEC Certificate of Business Registration

garage door

-Electrical Competent Person Scheme ("CPS") Registration

-Electrotechnical Certification Scheme ("ECS") Registration

-Registration with the NICEIC competent person scheme

hvac

-Gas Safe Registration

-Valid Registration for F-GAS Certification with REFCOM

junk removal

-Valid Registrations from the Scottish Environment Protection Agency "SEPA"

-Upper Tier Waste Carrier Registration from the Environment Agency

pest control

-BASIS Prompt Registration

-Servicing Membership with the British Pest Control Association ("BPCA")
All other industries/sectors that were named earlier do not require any license proof.
For business registration, you will need one of the following:
Business Registration (one of:)
VAT Tax ID #
CRN # with Companies House
Utility bill
*last resort-can accept a council tax bill if cannot provide any of the above
And for the insurance, you will need to showcase public liability insurance documentation that has a minimum coverage amount of £250k.
You can start your Local Services Ads without having a Google Guaranteed badge, but that would be foolish and no one would be keen on giving you a call to do a job then! Displaying a Google badge of trust lets customers know that the service providers' businesses are authentic and have been vetted by Google.