Joe Wicks - also known as The Body Coach - is a fitness coach, TV presenter and author. He's gained popularity over the years for his 15-minute workouts and meals, presenting his own TV series, selling millions of books and amassing an army of fans on social media.
Now, in the wake of the COVID-19 pandemic, Joe Wicks has become a household name - quite literally - thanks to his #PEWithJoe videos. The reaction has been phenomenal - TheBodyCoachTV YouTube channel has gone from 823,000 subscribers to 2.1 million in under two weeks, and the entrepreneur has been featured in hundreds of media placements in the UK and beyond.
So, what can businesses around the world learn from Joe Wicks and his ability to turn a crisis into an opportunity? We've come up with some tips on how you can apply his logic to your industry.
Spot the opportunity
In the past few weeks, consumer lifestyles and behaviours have changed dramatically due to the ongoing coronavirus outbreak but, in the midst of it all, Joe Wicks spotted an opportunity to change his content in response to the current climate.
Taking to Twitter after the news of nationwide school closures, he announced that he would be streaming daily morning workouts designed for children, in place of their now-cancelled PE lessons.
It's safe to say that this idea was a success: over 790,000 households tuned in to the first livestream, and nearly 6 million have viewed it since. It just goes to show that it's well worth thinking about how you can take the current negative situation and turn it into a positive.
Adapt to the situation and keep going
Rather than sitting around and letting life come to a standstill during this period, try to think of ways you can adjust to the change.
This process is illustrated well in Spencer Johnson's classic business fable, Who Moved My Cheese?. The story features two mice and two 'Littlepeople' - the latter representing humans - who live in a maze (business environment) and hunt for cheese (happiness and success). When the cheese disappears one day, the Littlepeople, thinking they are entitled to food, react badly. The mice, however, are motivated to find new cheese.
The main takeaway from this story is that change should be embraced, even in difficult times, which is exactly what Joe Wicks has done in his new venture. How could you apply this to your industry? Could you offer a delivery service? Offer gift vouchers? Take your business online?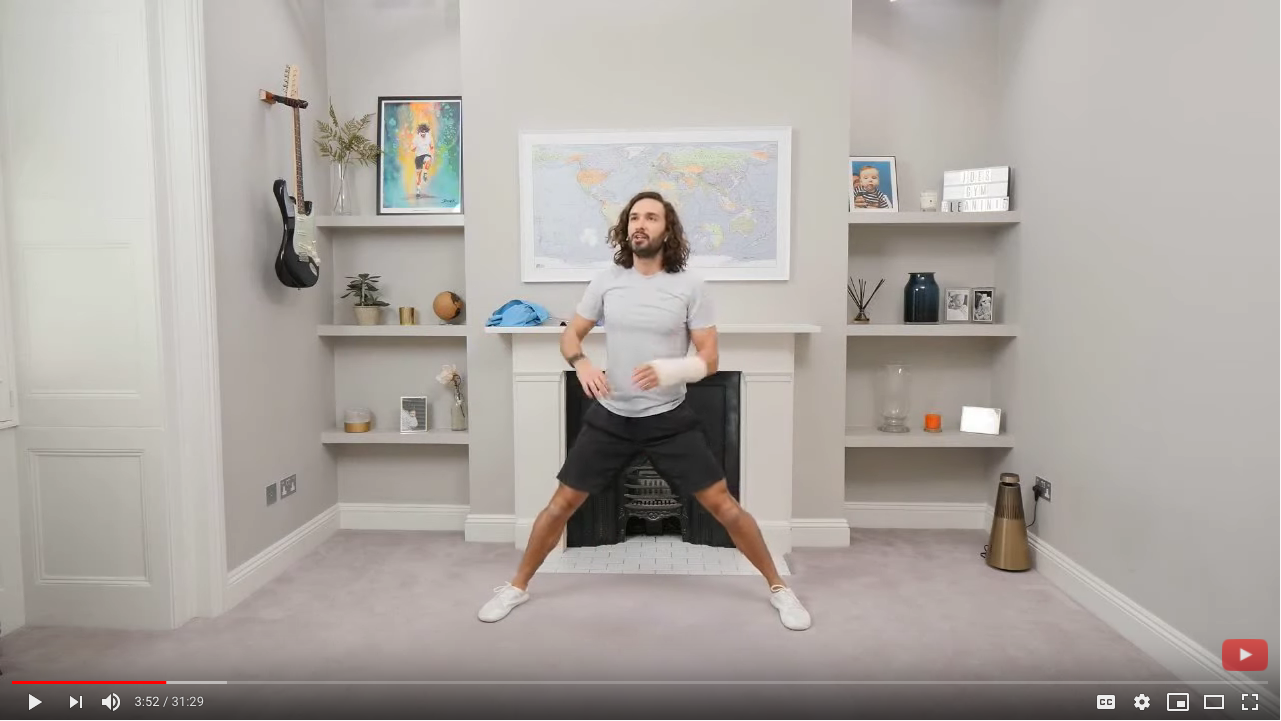 Use technology to your advantage
While the general sentiment at the moment is to stay home, technology has the power to keep us connected like never before, allowing us to communicate with ease across the world. Joe Wicks was already an avid user of video and social media platforms, but he has adapted his content to suit a new audience - many of the comments on his #PEWithJoe videos are from school children who have been told to watch them by their PE teachers. He even turned down an offer to move these workouts to a television format, realising that streaming them on YouTube made them accessible to a wider audience.
Are you doing this with your current (or potentially new) audience? Video conferencing, email newsletters and social media are just a few of the platforms you could make more use of to keep your business relevant and useful for consumers.
Involve your audience
How can you get your audience involved with what you are doing? Joe Wicks is using social media to promote his videos and the hashtag #PEWithJoe quickly started trending soon after his big announcement.
Parents have been joining in and sharing messages of approval online, along with pictures and videos of their children doing the workouts, and Joe has been interacting with his fans through a range of mediums including retweets, replies and Instagram videos. The impact of this engagement is clear in the astronomical increase of Joe's subscribers and followers.
How can you utilise your audience to spread your message? When creating content, you could involve them by creating polls or asking their opinions. It's important to retain communication with your customers and inform them about the steps you're currently taking.
Plan for the future
During times of uncertainty we tend to feel less ambitious, holding back rather than exploring new opportunities - just like the Littlepeople in Who Moved My Cheese?. During this time of crisis, you may be swayed towards cutting back on your business' marketing spend.
However, as Joe Wicks' success has proved, continuing to put time and effort into your marketing strategy will stand your business in good stead for when things start to pick up. He's thought about how he can use the current situation to help his business in the long run and, once we're on the other side of the COVID-19 pandemic, he'll have plenty of opportunities across the world - he's already being described as a cross between Jamie Oliver and Mr Motivator.
In a 2017 interview with The Guardian, Joe Wicks said that one of his aims was to get more involved with schools and the NHS, but he was unsure of how that would manifest. Three years later, amid an international crisis, he has definitely achieved that - it just goes to show that if you have a plan in mind, you should constantly be looking out for ways to make it happen.