Last week, we hosted our very first Games Night networking evening, in collaboration with Creative Quarter and The Big House programme. The event was a great success, and saw over 50 guests from local digital and creative businesses attend.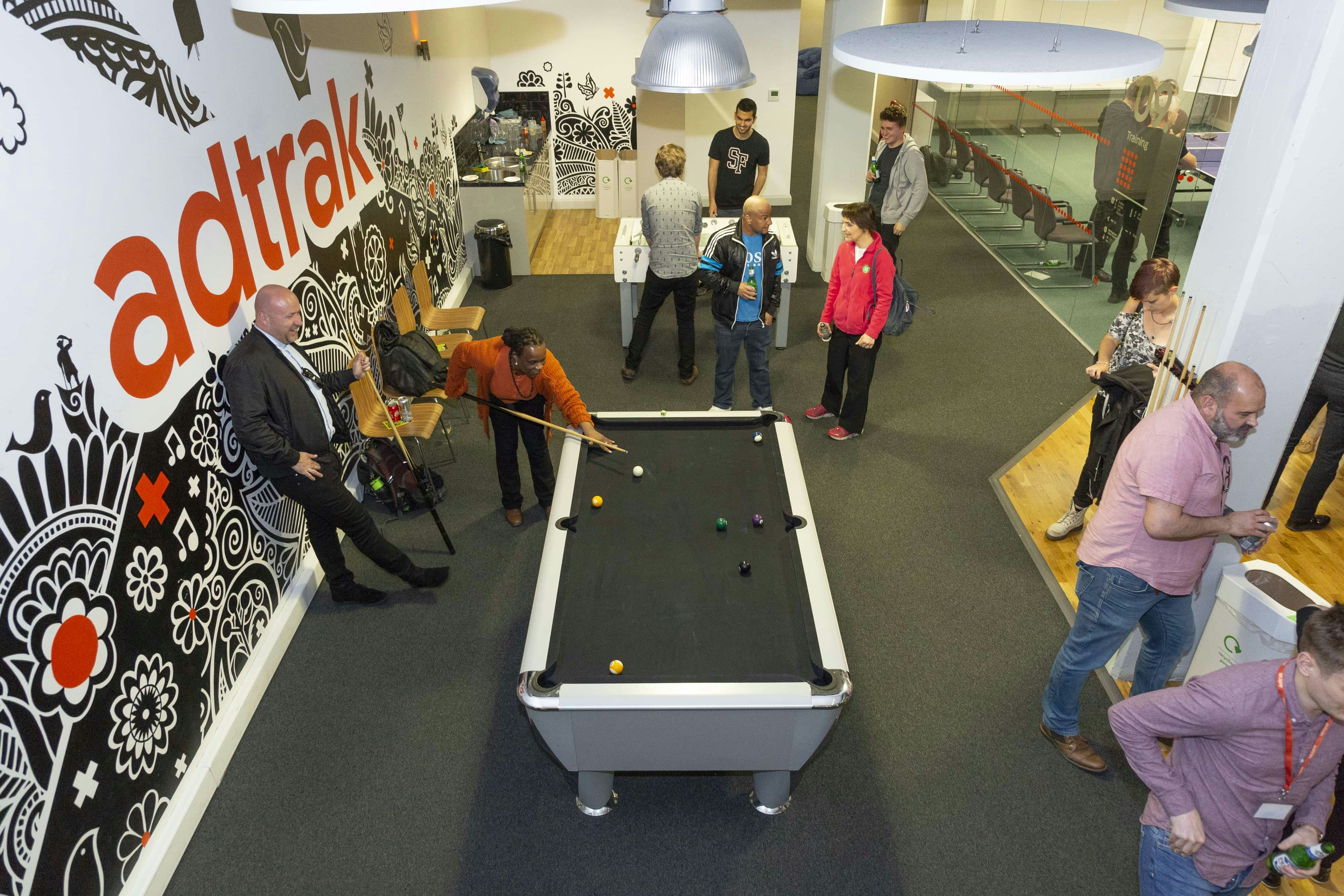 The evening utilised the fantastic facilities we have here at Adtrak, including our downstairs breakout area, pool table, ping pong table and football table. Guests were invited to join us for a few drinks and some food, whilst participating in some informal networking and a bit of friendly competition. Live leaderboards tracked the progress of each tournament, and our three triumphant winners were awarded prizes at the end of the evening.
Chris Robinson, the MD here at Adtrak, was the guest speaker at the event last Thursday. He discussed Adtrak's tremendous growth over the past 21 years, and how remaining local and part of the Nottingham community is incredibly important to him.
Chris said: "We've been lucky enough to experience fast, but sustained growth, here in Nottingham. We employ over 120 people in the city centre and their salaries go back into the restaurants, bars and shops which, in turn, helps the city's economy to thrive.
"We want to retain the digital and creative talent in Nottingham, and work hard to employ young people straight from the colleges and universities. We then provide the necessary training, growth and development and, where possible, prefer to always promote from within.
"It is in these values that our relationship with the Creative Quarter and The Big House really comes into its own. We want to help other local businesses experience the growth we have, and the networking events and workshops we are holding with Creative Quarter should do just that."
Adtrak & The Big House
Supported by the European Regional Development Fund, Creative Quarter's The Big House programme provides free business support for Nottinghamshire and Derbyshire-based creative and digital businesses.
Adtrak will be supporting the programme with a series of workshops throughout May and June.
Product Photography Workshop – Wednesday 23rd May

Bring Your Own Website – Wednesday 14th June

Bring Your Own Brand – Wednesday 20th June

Bring Your Own Social – Wednesday 27th June
For more information on any of these events, and to sign-up for free tickets, head to bighouse.org.uk and search for 'Adtrak'.