Wix, a website building platform, has recently launched its annual SEO battle! The Wix SEO competition involves two agencies going head to head to see who can rank the highest for the search term "Wix SEO". The Wix SEO Lovers must use a website built with a Wix template, whilst the Wix SEO Haters can use whichever platform they prefer. Both agencies must use white hat SEO tactics and follow Google's search guidelines.
The competition lasts six months (from 26th June – 19th December) and will be judged by Lukasz Zelezny, a respected SEO keynote speaker, author and marketing influencer. The winner will receive an impressive $25,000 and the loser still bags a cool $10,000.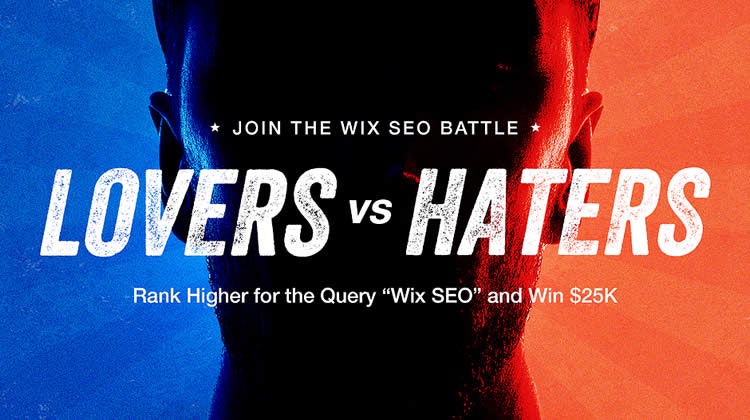 We're excited to have landed an interview with this year's Wix SEO Lovers! Read on below to find out who they are, their strategy for the competition and what they'd do with the prize money. (And keep your eyes peeled for our follow up interview next week with the Wix SEO Haters.)
Introducing the 'Lovers'
This year's Wix SEO Lovers are MHC (Marie Haynes Consulting). First established in 2015, MHC are a hand-picked team of SEO experts who specialise in helping businesses thrive on Google. With technical Google algorithm knowledge, MHC concentrate on performing site quality reviews, link audits, algorithm update advice and manual penalty removals.
What made you participate in the Wix SEO competition?
At MHC, we love to learn new things and test our knowledge. The competition acted as a fun way to do this and a unique opportunity for MHC to come together. We spend a lot of time working individually so this lets us collaborate and grow as a team.
We also were curious to test our hypothesis that while Wix may have some limitations, they've improved their SEO tools to the point where we won't be at a serious enough of a disadvantage that our quality of content and ability to generate natural links won't be the biggest difference maker in the competition.
As the Wix SEO Lovers, you have to use a Wix site for the competition. Do you think this will give you an advantage?
We don't think we'll have any inherent advantages in using Wix. There are common concerns among the SEO community as to the overall SEO viability of Wix sites. So far, while their SEO product certainly isn't perfect, we can see they have made strides in this area. Based on our needs for the purposes of this site and contest (a fairly simple blog), we don't think we are at a major advantage or disadvantage by using Wix, and we think quality of content and backlinks are going to be the most critical factors.
How confident are you about winning?
So far, both the Haters and Lovers have been fairly equal in ranking. It's hard to say what will happen over the next few months. We have really enjoyed the excitement the contest as brought forth thus far.
What SEO tools are you using for this competition?
Nothing too special — we are actively monitoring GA and GSC, while checking in on our links and our competitor's links in ahrefs. We will probably audit the site eventually in SEMRush to see what insights are available there.
How is the SEO strategy going so far?
It's very early still when you consider these are brand new sites that went live as of a month ago. There is a lot of volatility in the deeper pages in the Google results and we're seeing a lot of fluctuations as the two sites gain their footing. We are happy with the fruits of our white-hat link-building efforts and all of the content we've produced so far. In time, we hope to be rewarded!
What would you do with the $25k?
While we haven't decided exactly what would happen if we won the prize money, we are happy to share it as a team and do something fun to celebrate.