"What are you wearing tonight?" "Probably jeans and a nice top."
Us girls love a 'jeans and a nice top' combo because it's comfortable, can be dressed up or down, and, most importantly, is a timeless wardrobe staple.
So when ladies fashion retailer, Missguided, announced last week that they added "jeans and a nice top" as a category to their website a few days ago, it was no surprise that this canny move was described as "revolutionary" and "the answer to all our problems" by Twitter users.
In fact, it's been so popular that, within a couple of days of the launch, the 'jeans and a nice top' sub-category has been awarded greater prominence in the navigation, rather than sitting under 'Occasions'.
Why is everyone so excited?
Personally, I'm excited that one of my favourite online shops has made it easier for me to browse their range. However, I'm also impressed at how Missguided has marketed a change that is technically very simple but is also a fantastic lesson in understanding your market and catering to their demands.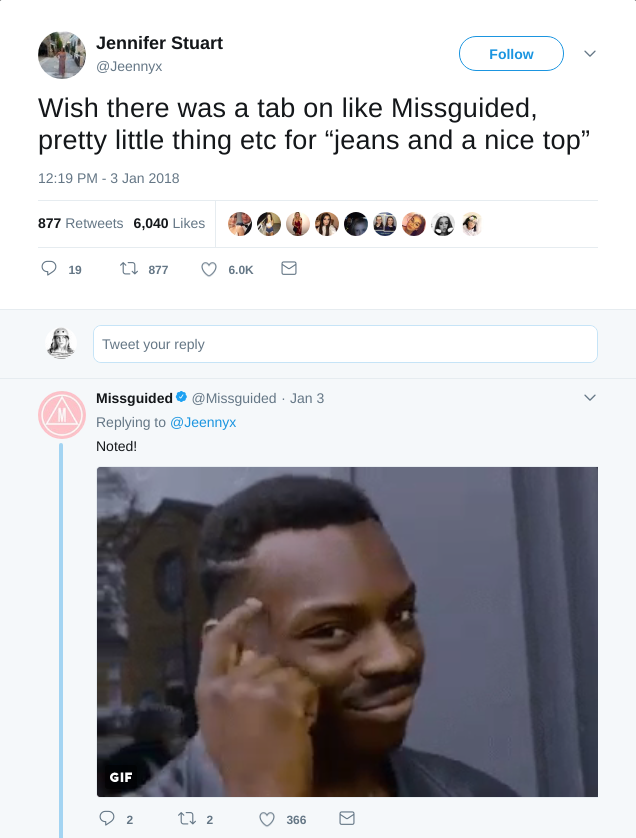 It started with a tweet
On January 3rd 2018, Twitter user Jennifer Stuart wistfully tells Missguided that she wishes they had a tab for 'jeans and a nice top'. Like all good companies using social media marketing to communicate with customers, Missguided responded mysteriously, indicating that there could be something in the pipeline.
Not even two weeks later, Missguided replied again to the user's original tweet saying:
"Sure thing, babe 💁‍Get yourself some jeans and a nice top right here: http://missgu.id/IzWtJR"
The academic in me gives marks for seemingly crediting the original source for the idea; the marketer in me doffs her cap for hitting the right tone with their target market's vernacular (women aged 16-35).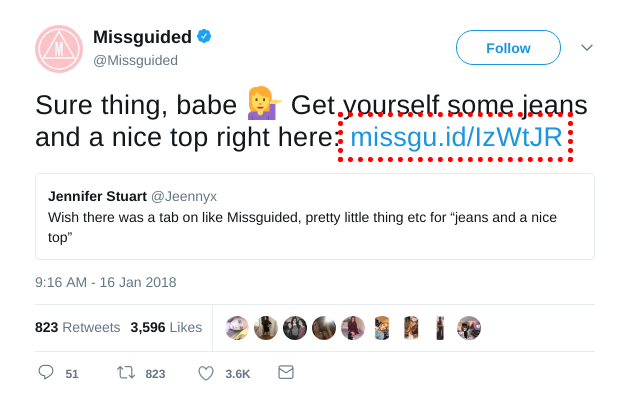 Social networking isn't for slapping about the marketing messages you want your customers to hear in a medium they are already comfortable and relaxed in. I mean, you can but you'll not find brand affinity (personal or emotional connections between customers and a brand) if you talk more than you listen.
Here was a very overt demonstration of a brand listening to a customer and it was very shrewd because the original tweet is referenced in all of the news articles posted online.
A cohesive approach
Missguided has over 400,000 followers on Twitter, but tweets about their products don't usually set the world on fire. Typically, 0.015% of their following like their tweets and even fewer retweet. To really push the brand forward and get word out about what they had done, they were going to employ a tactic called social proof – essentially, get fashion authorities and regular news outlets to respond with excitement to the announcement. The consumer who may have previously thought, "Hmm, that's cool. I'll check it out some time" is likely to be far more excited because a fashion authority and other shoppers are.
In the early days of social media there would be disagreements over whether managing social networking accounts should be the responsibility of marketing, PR or even customer services. What this exercise shows is that when every department communicates efficiently, it doesn't matter who is pressing the 'tweet' button.
If we believe that one tweet inspired a whole new category, then we see web developers, the buying team, the warehouse, PR and digital marketing all working together to deliver a campaign in a fairly short space of time, and keep customers happy in the process. It's a fantastic example of a collaborative marketing plan that got their target audience talking.
This cohesive approach has really paid off. Social reach and link clicks have gone off the chart and, I would imagine, website traffic and sales have too.
The SEO benefits
The day the news broke, if you Googled "jeans and a nice top", not only would you get Missguided appear as the top result but you'd see the news carousel pop up with articles from The Sun, Metro, Cosmopolitan and POPSUGAR to name a few. Now the news is a couple of days old, the SERPs show images where the news carousel was but what a fabulous few days to dominate the search results for such a broad term!
These articles did more than create buzz. There are now lots and lots of lovely 'dofollow' links pointing to their domain, ensuring that if a competitor wants to try and knock Missguided off the top spot in the SERPs, they'll have their work cut out.
Not only have Missguided pulled off a clever PR stunt, but they have given us all a lesson in how important your target market and subsequent user experience is. They've listened to their audience, delivered on it, employed a shrewd marketing plan and reaped the PR, SEO and, most likely, sales benefits.