Keeping on top of industry updates and delivering a full learning programme is key to maintaining our agile, forward-thinking environment. Recently, Jodie Baker and Rebeccah Platts, two of our talented Internet Marketing Consultants, led a debate discussing the importance of reviews – and whether Google Reviews or Reviews.io is the better platform for businesses today. They've summarised their debate below, highlighting their key points and overall conclusion.
As one of the largest digital marketing agencies in Nottingham, we are often asked two important questions by our clients: why are reviews so important and what platform should be used to collect them? We have recently had an internal debate to try and understand the pros and cons of collecting reviews on two leading platforms: Google & Reviews.io. We have split our debate into the key benefits of having reviews, and how this differs across platforms. Take a read, and find out what conclusion our debate came to.
Rankings
One of the most important factors that Google Reviews can bring to any business is rankings. Not only are Google Reviews a great indicator to Google that a company is trustworthy, but the gold stars will help build trust with potential customers, especially when comparing against those that haven't collected any reviews. Further to this, Google will take into consideration the reviews that have been left, and if the review contains keywords that the business is trying to target, this can also influence ranking position! Google is the go-to search platform, and where reviews are seen the most, so to SEO professionals it's a no brainer that Google Reviews should be one of the top priorities that local businesses should push.
Although Reviews.io does not directly affect rankings, indirectly, it holds some ranking power. Reviews.io offers a range of widgets and integration opportunities, which we will discuss later in this article. However, these opportunities enable reviews to be displayed across a site, and used in organic star ratings. It is known that Google is increasingly looking into the behaviours of users to determine if a site is deemed as 'useful' or not. By having Reviews.io across a site, and integrated into organic star ratings, potential customers are more likely to interact and convert, thus making the site 'useful' which will affect rankings. Reviews.io are also visible on Google My Business profiles and, although they don't stand out in the same way as the Google stars, Google is still aware that the profile is linked to a company and will display the total ranking out of 5, linking to the Reviews.io profile.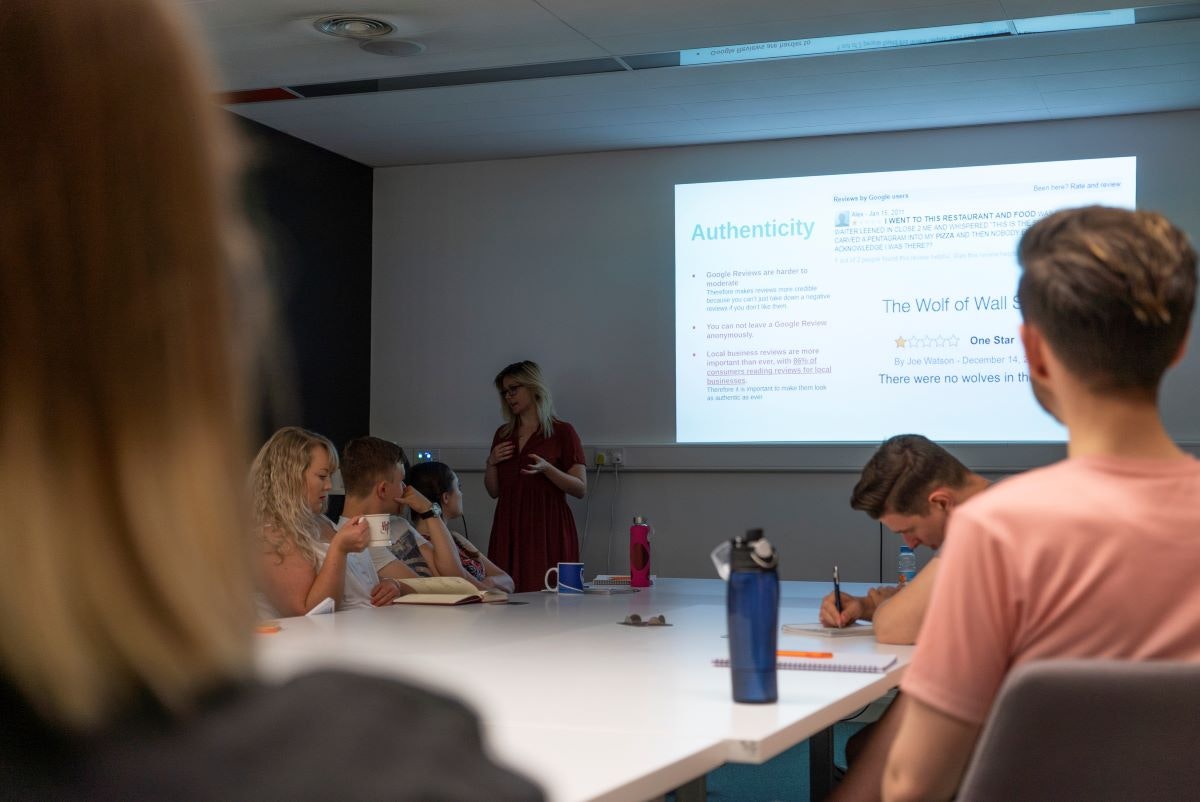 Authenticity
One of the main reasons that businesses may be put off from collecting reviews, is the risk of potential negative reviews. Nobody wants to have negative reviews associated with their listing, let alone their brand. However, sometimes this can be a great way to articulate great customer service, and have it visible for others to see. With over 86% of consumers reading reviews for local businesses it's important to make them as authentic as possible.
Authenticity can be looked at in two ways, and this is shown by the two review platforms. Google Reviews focuses on the authenticity of the business, meaning that if there is a review that is negative and you would like it to be taken down, you have to go through Google's strict moderation process in order to do so. This means that the reviews shown on your Google My Business profile are as authentic as possible. However, this does mean that a fake / spam review will take longer to remove. Although you don't need to verify that you're a customer to leave a Google Review, you are not allowed to post anonymously, with the review pulling through the name associated with the Google Account used, which enables visibility when determining if a review is authentic or not.
Reviews.io look at the authenticity of a review from the other direction: the authenticity of the person leaving the review against a business. If someone leaves an untrue review on a Reviews.io profile, there is a very easy process of getting this removed. A simple report button within the backend of the dashboard will mean the review is taken down, and moderated by the Reviews.io team. This is fantastic for those who don't want their Reviews.io score to go down, but it can lead to profiles looking inauthentic, and almost too good to be true. Having negative reviews to reply to can help potential customers see that sometimes things go wrong, but the business is able to fix the issue. To combat this, Reviews.io enables customers to input a bulk list of existing client emails to request reviews from. In order to do this there has to be an order number associated with the email. However, the review will then show as a 'verified reviewer', showing authenticity in the reviews left.
Accessibility & Ease of Use
Business owners will also be pleased to know that getting a customer to leave a review is easier than ever before. For those using Reviews.io, no account sign-up is necessary and a review can just be left by those with a link to a company's Reviews.io profile. Better yet, Reviews.io also offer their users a handy added feature of setting up an email template to ask for reviews from customers en masse. However, it is often argued that the downside of reviewers not having to create an account is the increased risk of spam – untrue, biased or potentially irrelevant reviews . But in an attempt to reduce this risk, Reviews.io do have a dedicated verification process, that requires the reviewer to click a link a verification email, provided they supply a legitimate email in the first place. Although verification is an additional step in the Reviews.io process, we would argue it does not necessarily limit the accessibility of leaving a review in the first place.
On the flip side, an email address is obligatory from the start for those wishing to leave a review on Google. Google Reviews can only be left by those with an active Gmail account. Some may argue that this limits Google's accessibility for those who do not have a Google email address. However recent studies show that over 70% of UK web users own a Gmail account, with this number growing year on year. Therefore implying that modern day web use makes leaving a review on Google just as easy as it's competitor.
Integration
One of Reviews.io unique selling points is their offering of free widgets and badges, that can be used across a variety of marketing platforms. These widgets can easily be integrated into most websites and allow companies to display either their Reviews.io star rating or individual reviews. Displaying positive reviews is a key way to increase click through rates and build a customer's trust in a brand. Therefore Reviews.io should definitely be your platform of choice when looking for a reviews company to help you do this.
Although Google don't offer the same additional features straight off the bat, this does not mean your Google reviews can't be displayed on your website too. Currently, Google does not offer their own widgets or their own methods of adding their reviews to your website. However, recent advancements in the world of web development means there are now a number of website plug-ins and embedding methods available from third party developers which can still be used. These can either be displayed by themselves or mixed in with reviews from other platforms however the complexity and quality of these plug-ins can vary so we recommend doing your research first before making your final choice.
Cost
Finally, when comparing the two platforms, cost is perhaps one of the most distinctive factors between the two. For a local business to collect Google Reviews, there is currently no associated cost. However, to collect reviews on Reviews.co.uk, a profile is needed with a monthly fee. Although to some this may seem like a clear cut decision, the added benefits that Reviews.io can offer for a small fee need to be taken into consideration.
Reviews.io can offer businesses instant customer service to help manage review accounts. Whether that's from understanding how to send bulk emails, to giving advice on best practises, someone is on hand to help from the start. With Google Reviews, although free, business owners or their dedicated marketing team are left to manage and understand the process themselves with the help of some online guides. It has also been found that businesses are more likely to push harder for reviews to be left when paying for the service, with customers in turn more likely to leave higher rated reviews on Reviews.io than Google Reviews. Therefore when comparing the cost of the two platforms the key question should be asked; what is more important to your business? The additional support or the price tag?
Conclusion
There are multiple reasons as to why collecting reviews is important for a business but their overall impact remains the same – to improve the visibility and trust in your brand online. From a rankings perspective, Google is the market leader in reviews platforms as it has been proven that having Google Reviews is a key ranking factor that contributes to websites appearing higher up in Google search results. This advantage, combined with its ease of use and non-existent cost, strongly argues that Google is the platform businesses should be pushing to collect reviews. However the benefits of Reviews.io should not be dismissed and we recommend the additional use of this platform should still be included in any business' marketing strategy. The more positive reviews you can collect for your business the better, and one of the best ways to do this is by taking advantage of the benefits of multiple review platforms.