In today's digital world, it is more important than ever to ensure your business is online. Having a website is just the beginning. With a Google My Business listing, you can add your business details to Google, showcase your services, and much more.
As you may know, Google uses your location to show you the most related results. With a Google My Business listing, your business can appear in local search results, along with your contact details and a link to your website.
What can you add to a Google My Business listing?
With a GMB (Google My Business) listing, you can add these core details about your business:
Business name*
Location*
Phone number*
Business category*
Areas you cover*
Website
Opening hours
Description
Photos
Products
Services
Link for appointments**
*Mandatory
**Not available on all listings
All these items can be added and customised to your business. Google will then use the GMB listings in their Search Engine Results Pages (SERPs) meaning that if someone searches for a product or service you provide, and you are nearby, your listing could show prominently in the results.
What are the benefits of a Google My Business listing?
A GMB listing is a huge benefit to any business. By having a profile you can reach more potential customers, increase your brand awareness, increase visits to your website, and even increase the calls you get.
A verified business profile
I would always recommend that you verify your GMB listing. This is a fairly simple process and is required to add any new listing. This will ensure that you can set up all the correct details for your listing and, most importantly, avoid anyone gaining access to your listing and changing its details.
When setting up a listing, the easiest option is to be sent a postcard from Google which includes a verification code. When you get the postcode, all you need to do is enter the code and your listing is verified.
Quick Tip: Changes to your GMB listing will need a 'Google Review' - which is where Google's bots will verify the change. Most reviews are done within a day, or sometimes a few hours. However, if you drastically change the name of your business, or its address, Google may require you to verify it again with a new code.
Online exposure
Research from the Google My Business Insights Study from BrightLocal found that, on average, a local business receives 1,260 views each month – 943 on Search and 317 on Maps. That is a lot of people viewing your business details.
Google have updated the way they show GMB listings, now mainly focusing on location. So if you want to reach more potential customers in your area, a GMB listing is a great advantage.
Increased calls
The same BrightLocal study showed that 16% of businesses receive more than 100 calls each month from their GMB listing - and, better yet, a further report found that 64% of consumers have used Google My Business listings to find a local business' address or phone number.
Apart from your contact details, you can also use your listing to post about events, products, and even your customers can post an image to your profile.
Free reviews platform
With all GMB listings, you can collect reviews, for free. People can go directly to your GMB listing and leave you a 1-5 star review with a message, and even include photos. These reviews will show directly on your listing and give a strong trust signal for anyone viewing your listing.
With recent updates, you can now use a custom review link for your GMB profile. You can send this link directly to clients or customers.
You can also reply as your business directly to any review you get on your listing, positive or negative. When it comes to negative reviews, it is always better to reply. Among consumers that read reviews, 97% read responses - so why not show both points of view? We just recommend replying in a polite and considerate manner.
Where does a GMB listing appear?
There are 3 places that a GMB listing can appear; in the maps pack, the knowledge panel, and on Google maps.
The knowledge panel
Referred to as the knowledge panel, a GMB listing can appear on the right side of the screen in the search results on desktop devices. On mobile devices, this appears near the top of the results.
For example, if we search for 'Floor Scrubber Dryers Loughborough' we see that the Alpha Power Cleaners GMB listing appears on the left, on desktop devices.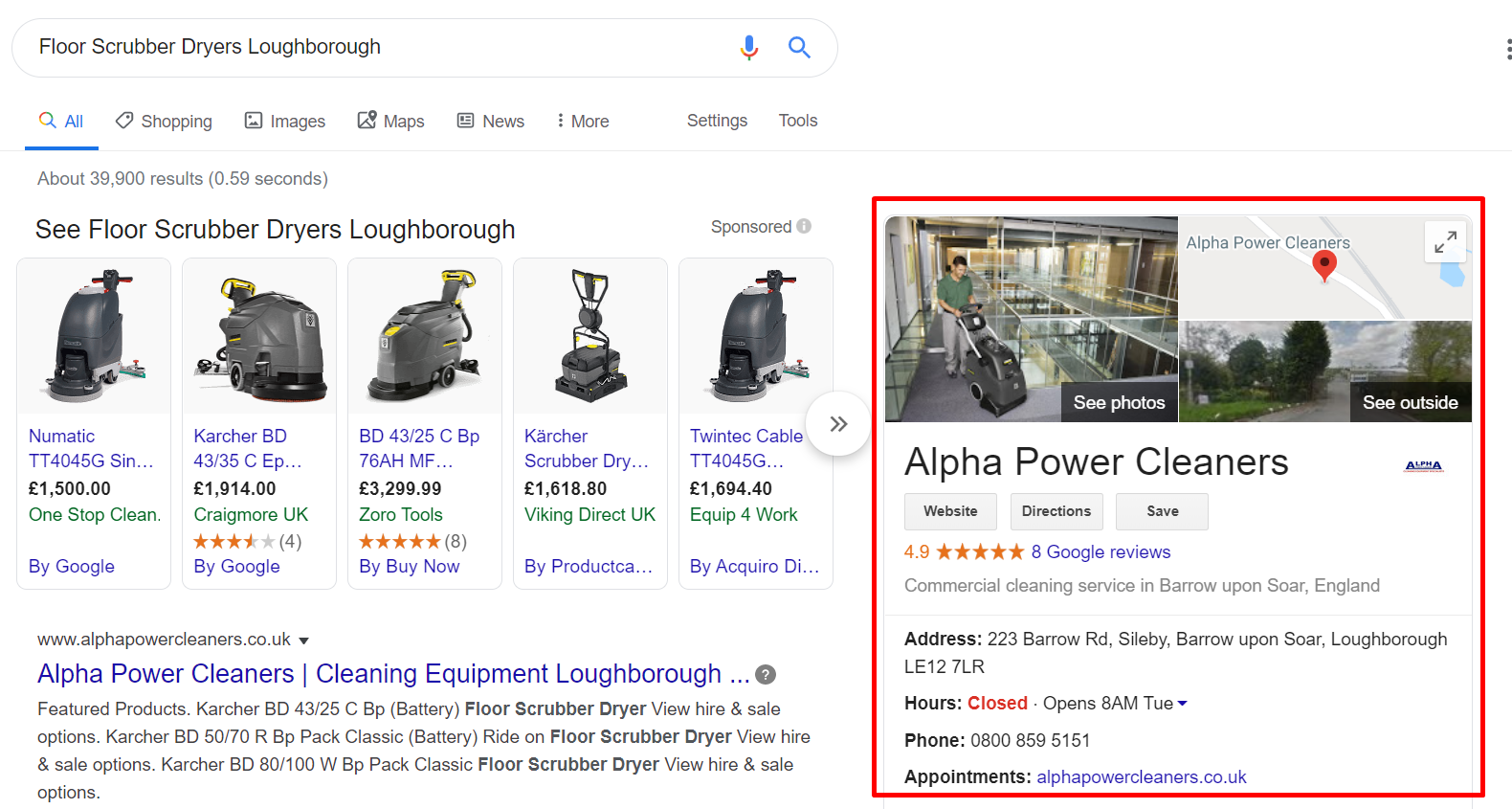 The knowledge panel appears when you have directly searched for a company by name, or searched for a key service or product that company offers, along with the location they are based in. This will show all the information on that business listing.
The main benefits of this type of listing are that you have a link to the business website, directions, can see the full address, open hours and the phone number. On some accounts you can set a designated link for 'appointments'.
On mobile devices, the buttons are even larger, and the listing takes up most, if not all, of the user's screen.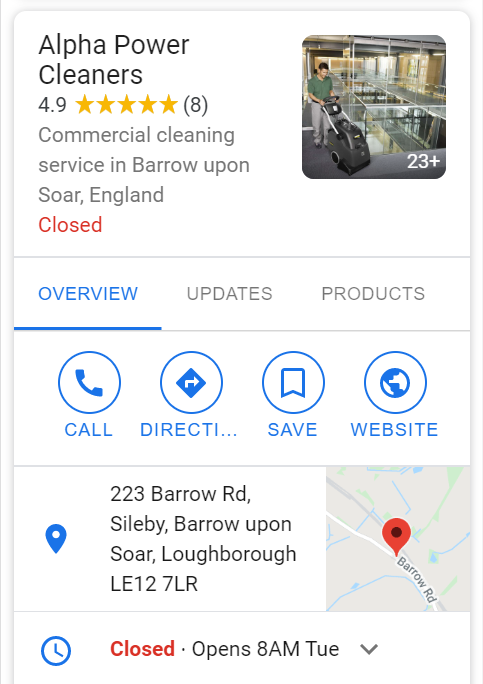 The Maps Pack
The Maps Pack is used on Google when several business listings in the area are related to what you have searched.
When there are several businesses that provide the same services or products, in and around the same area, they will most likely show in the Maps Pack. This shows a map and three business listings with a few details about each.
Google are always changing what is shown on the individual business listings within the Maps Pack. However, the most common things you will see are: the opening hours, the phone number, the main location and reviews (if the listing has any).
Searching for 'Roller Shutters Luton', for example, will show a Maps Pack with Royal Industrial Doors as one result. As you can see, Google have found a review that mentions the keyword we searched for.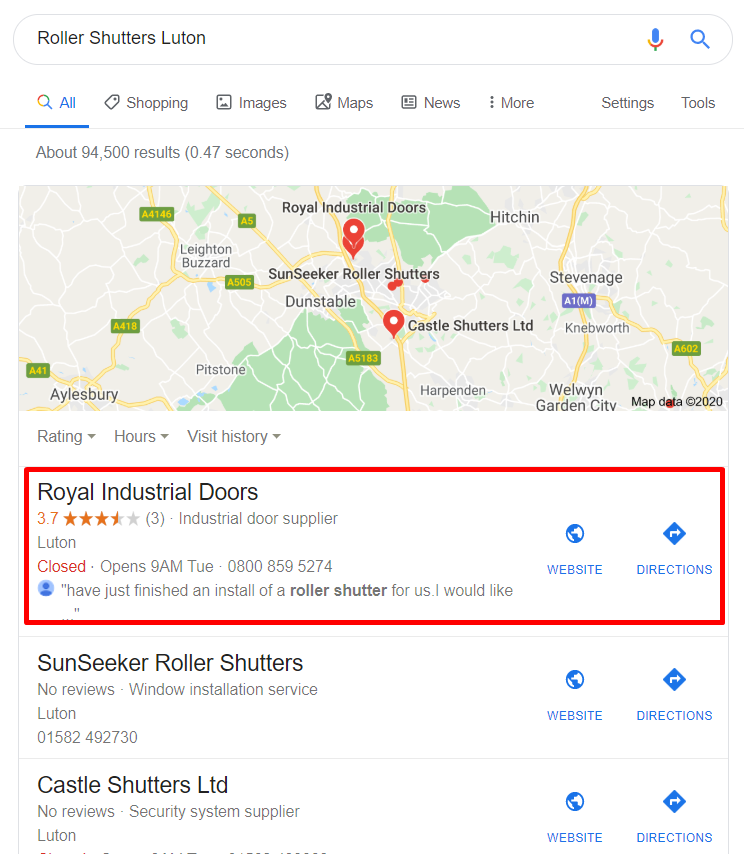 Above is what the Maps Pack looks like on desktop devices. Below is what you will see on a mobile device.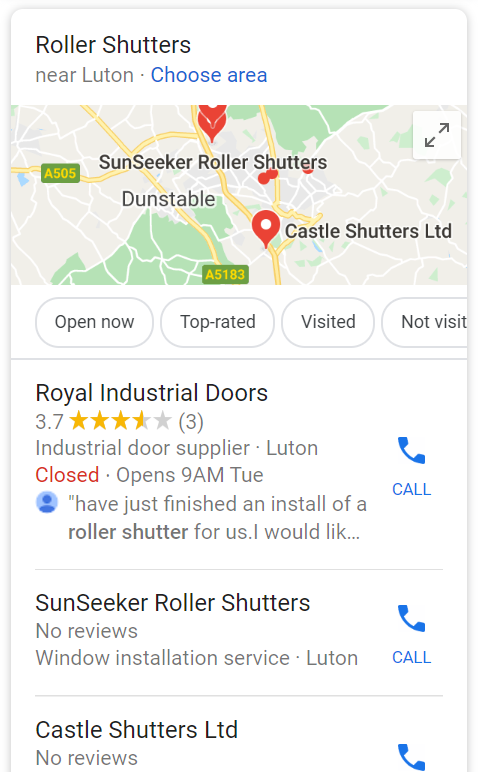 On Google Maps
Very similar to how the Maps Pack works, GMB listings are shown on Google Maps. By clicking on them, you will be able to see all the information on their listing, and a list of other businesses nearby.
If we go to Google Maps and search for 'Forklift Training Doncaster', for example, Euro 1 Training Ltd is one of the GMB listings that appears.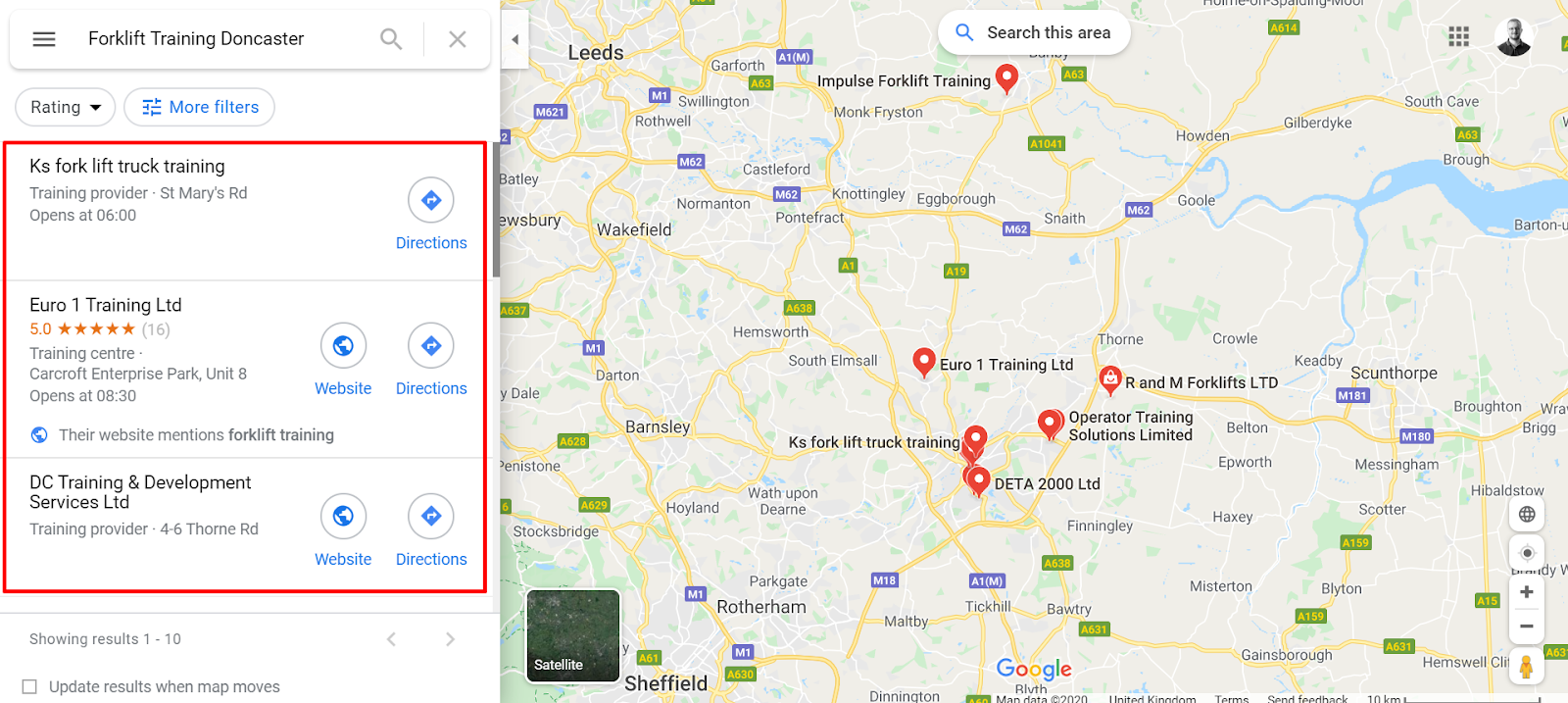 So what next? 3 action points for your GMB listing
Now you know all about Google My Business, I have three tips that will help you to optimise your listing.
#1 - Check your business information is still correct
Google is always adding new features to GMB listings. Have a look at your listing to firstly check all your information is up to date, and to see if there are any new features you can take advantage of. For example, 'Products' is now available for most listing categories.
#2 - Add photos, lots of photos!
You can add photos at any time to your GMB profile, and these appear wherever your listing appears. Add photos of your work, your clients, your services, and your location to get more exposure.
Google have directly stated that, 'businesses with photos receive 42% more requests for driving directions to their location from users on Google, and 35% more clicks through to their websites than businesses that don't have photos'. So get adding those photos!
#3 - Use 'posts' for updates and events
Through your GMB listing you can add posts, a bit like social media. Add an image with a body of text and a link. Got a new service you want to push? Got an event running? Post it to your listing, and these will show alongside your business information.