We know how important digital marketing is. And we're passionate about telling others how it can help their business. On Thursday 16th July it was the turn of the restaurant industry as we teamed up with Google to host Main Menu, a digital marketing event exclusively for restaurateurs.
.
An online presence is becoming increasingly important for restaurants and this was the focus of the information shared at Main Menu. Taking place at the Google offices in London, a range of industry experts, restaurant specialists, celebrity chefs and brand managers faced an audience of 90. The audience included representatives from a number of high profile brands – including The Gordon Ramsay Group, Wagamama, Zizzi and Chiquitos.
Four guest speakers and three panelists discussed the various ways restaurants can use online platforms to enhance their brand and reputation. Andy King, one of Adtrak's very own Account Directors, used the Google Consumer Barometer Tool to reveal that 31% of all restaurant sales are driven by online research. 28% of this research is conducted on a mobile phone.
A Cohesive Marketing Strategy
This emphasises the importance of the digital spectrum for the restaurant industry and King went on to discuss how best to utilise each area. From responsive web design and comprehensive SEO and PPC campaigns, to the use of social media and video tools, it is crucial in today's environment to construct a complete and cohesive marketing strategy.
This idea was further cemented by Charlotte Sutton, Google's Restaurant Industry Manager. Sutton used a number of Google tools and trends to drive home just how important online marketing is for restaurants today. 37% of diners only conduct online research when making restaurant choices, she said, whilst 50% use both online and offline sources. This means it is now more important than ever for a restaurant to have a well-designed, well-functioning website which works well across all devices.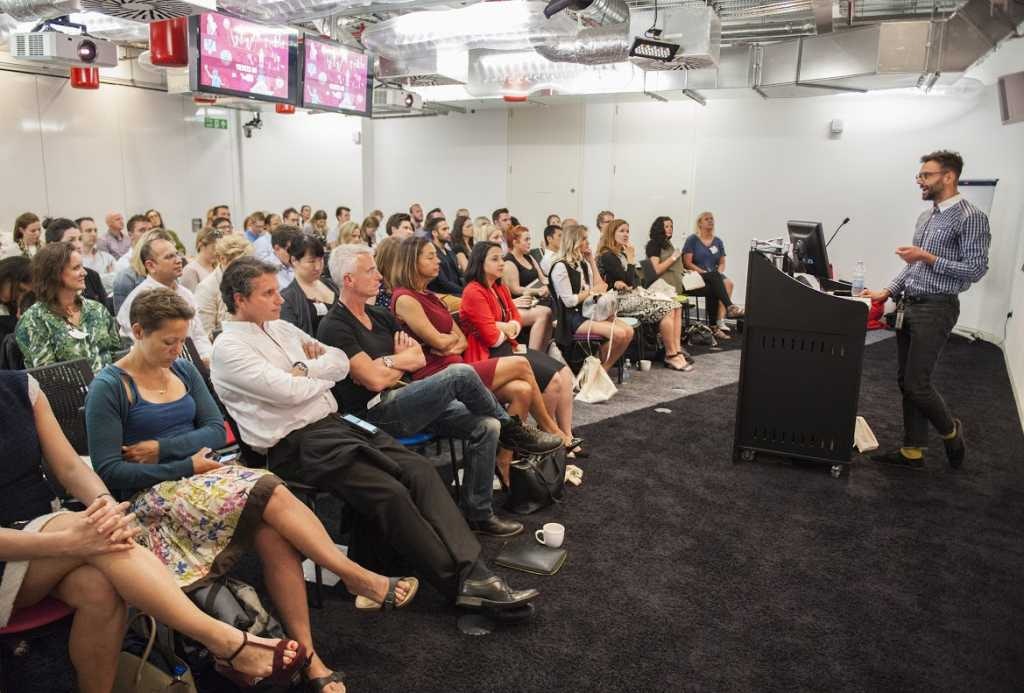 Mobile Devices
Alex Macdonald, Co-Founder and Co-CEO of Velocity, an app which allows you to pay for your restaurant bill with your mobile device, further outlined the importance of a good online presence. "1 in 6 adultscheck their phone 50 times a day", he said. Not only does this stress the importance of online visibility, but it also shows how brands must support and engage with mobile devices in order to exploit this trend and remain up-to-date.
Video content was also advocated as a method of increasing web traffic. Yalin Solmaz, from Youtube, said food was the third biggest growing category on the video-sharing site. It is, therefore, highly beneficial for restaurateurs to respond to this obvious demand. This can take the form of the creation of videos featuring content which promotes conversations and interactivity. Similarly, high quality photography works brilliantly for the restaurant and hospitality sector.
Once we had heard from all four speakers, a Q&A session concluded the Main Menu event. Three panelists used their various skills and expertise to take questions from the floor. The panel included: Subi Gnanaseharam, the Social Media Manager for Jamie Oliver; Olivia Sibony, Co-Founder of Grub Club; and Sophie Michell, celebrity chef and food writer. They discussed the various digital trends and techniques which have helped to promote their brands online.
Overall, Main Menu was a massive success. Planned and executed by the team here at Adtrak, it discussed a range of innovative trends and techniques all designed to help restaurateurs utilise a hectic online marketplace to their advantage.
The main takeaway from the event was that it is no longer advisable for a restaurant to put a strategic digital marketing plan in place, but necessary. As more consumers go online in the hunt for great food, it is up to the restaurants to cater to their need, ensuring their brands are visible, accessible and engaging.