Whether on phones, speakers or displays, it's hard to miss that Google has a smart assistant. Known as the Google Assistant, it's presented as a superior choice over competitors thanks to its AI smarts, backed by a knowledge graph containing billions of entities sourced from across the web.

As a marketer, what you may not know is that similar smart functionality is built into Analytics. Launched in 2018 and accessed via the search bar atop the Google Analytics interface, you'd be forgiven for thinking it's a simple search tool. In my opinion, 'Ask Analytics Intelligence' is something of a sleeper hit that will allow you to gain greater insights into your data. It may also prove even more of a necessity in light of the interface changes in the new Google Analytics 4 update.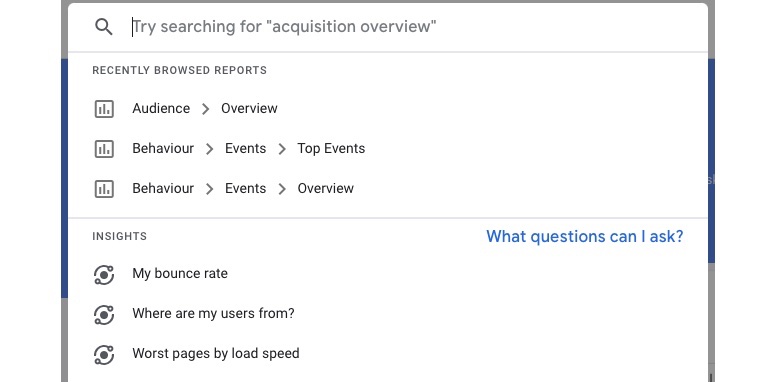 When expanding the search bar, you're offered a variety of starting suggestions, with a link for even more. As a first time searcher, these provide the building blocks for the types of queries you can ask. Helpfully, they could also prove a useful way for new Analytics users to obtain information they wouldn't otherwise know how to.
Through my own use and experience, I've rounded up a selection of the custom searches that have proven helpful to elevate data analysis and also enhance the reporting made to clients with actionable takeaways for their business.
I'll admit, the information retrieved by Ask Analytics Intelligence can be identified manually, but the search feature saves time and the results are easily screenshotted for inclusion in your reporting.
Which pages are increasingly capturing new traffic?
Search query: landing page growth month over month by new visitors in September 2020

The homepage routinely attracts the highest amount of visitors on a website but how about up-and-coming pages? This search could reveal trends in your users' interests which you might look to build upon and sustain through ongoing marketing.
What's the most popular day of the week for conversions?
Search query: goal completions by week day name for past 4 years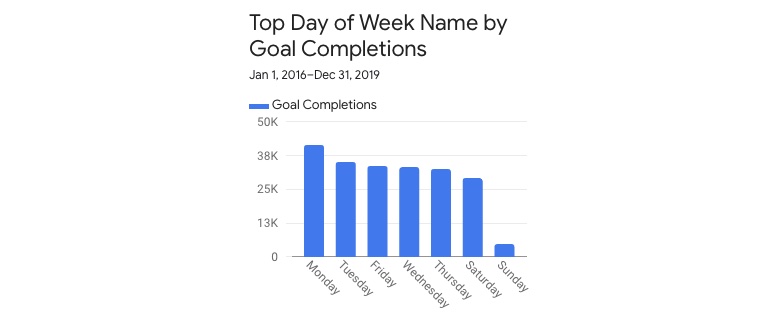 (Be mindful your Analytics data retention settings may purge historic data - by default it is set at keeping 26 months of data).
Adopting this line of thinking, you could then refine the query to identify the top hour of the day that conversions are made. And even more specifically, Ask Analytics Intelligence is able to filter to specific goals set up, such as telephone calls ('Adtrak Insight' below).
What hour of the day is most popular for calls?
Search query: top hour by goal 3 over the past 4 years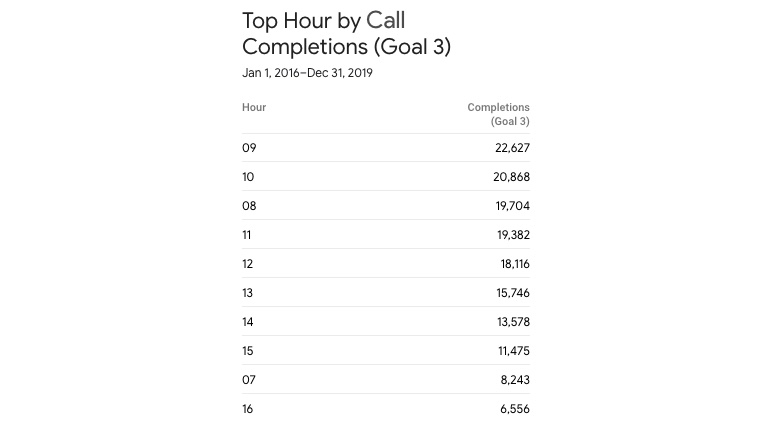 In real terms, with this data insight you may recommend that an answer machine be added for out-of-hours calls or that the business be staffed in the 7 o'clock hour to take calls.
How is device usage changing?
Search query: top device by year over year growth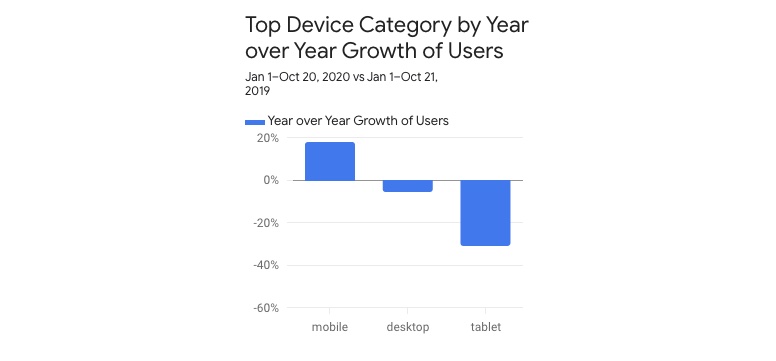 When it comes to how users are accessing your site, device usage influences design and technical decisions. It has been known for a few years now that mobile continues to grow in prominence. This data confirms it, should you be seeking approval for a particular campaign or web project, for instance, the necessity of pagespeed improvements for 3G/4G users.
We can further investigate with a follow up question:
Are mobile conversions growing?
Search query: goal completion mobile, year over year

This answer makes sense, but sometimes you get results which really do challenge assumptions...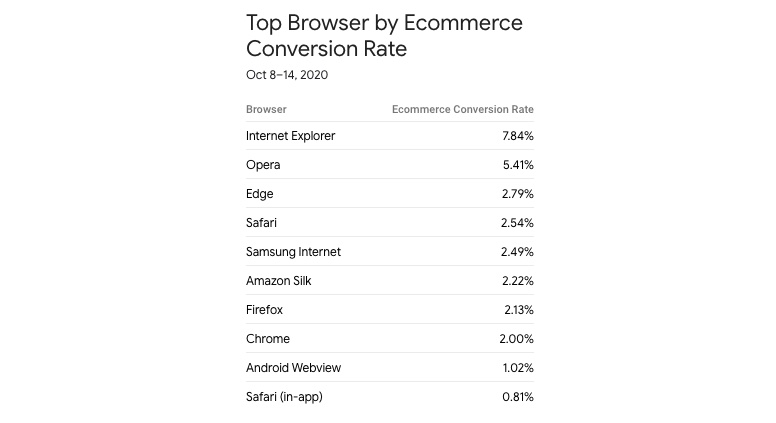 What are new & returning visitors viewing upon arrival?
Search query: top landing page sessions by new vs returning this year

How soon does a visitor convert?
Search query: goal completion by count of sessions this year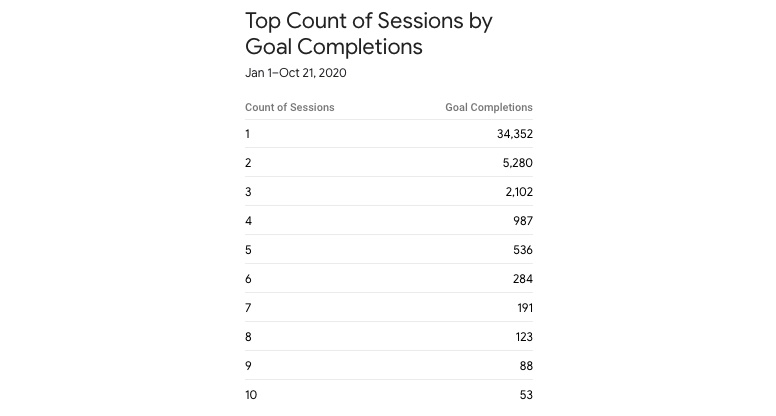 As seen here, some users visited in excess of 5 times, heck 10 times, to complete a lead gen goal! This goes to show how instantaneous (or not) the customer buying process may be for the sector you're working with.
Is this data reliable?
Search term: anomalies in sessions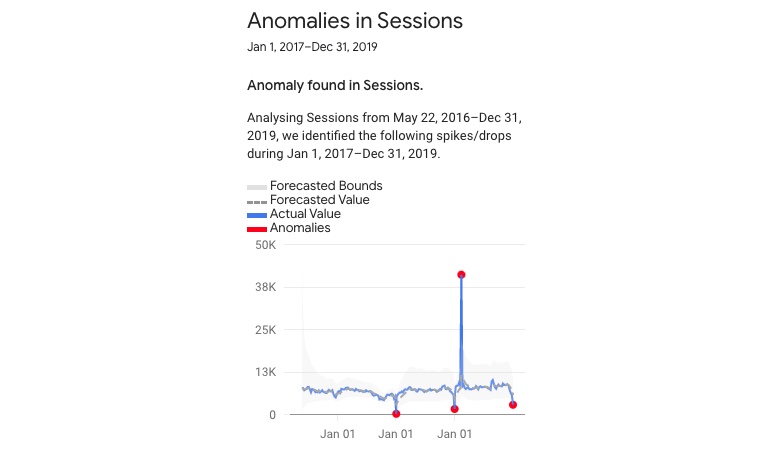 It's helpful that Ask Analytics Intelligence is also able to identify data that doesn't fit the norm. By comparing the highs and lows over time, it highlights dates which show irregularities. With this you can then go take a closer look, or perhaps ask follow-up 'how' or 'why' questions to establish what's behind the changes.
--
As a side, I'd encourage you to rate the answers you receive, so the system can learn how helpful its interpretation of questions is, or the relevance of its results. And if you don't get an answer at all, use the feedback option so Google's engineers can learn what else you'd like to gain insight on.
As time goes on, the Ask Analytics Intelligence tool should only ever continue to grow in usefulness through its machine learning. It'll be interesting to know how other marketers/Analytics users make use of the feature (or the reasons they don't!). And if you come up with a useful search query of your own then let us know on social.