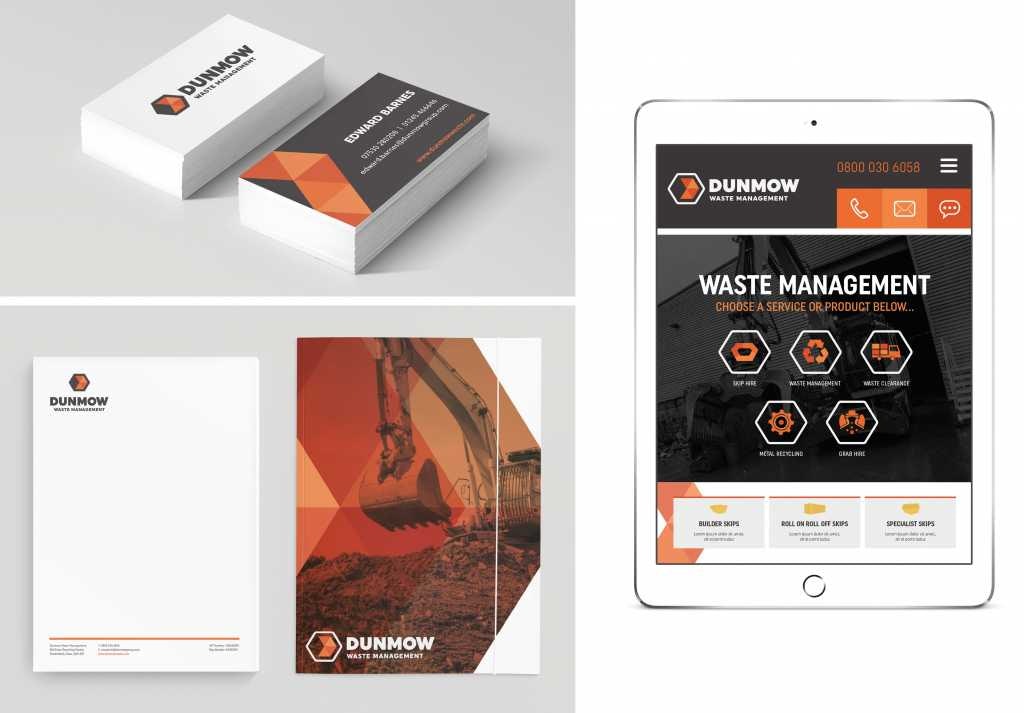 This month, Dunmow Waste have launched their rebrand. Designed and developed by the Graphics team at Adtrak, the new branding marks a turning point for the waste management company, ensuring they are up-to-date and ready for 2016!
The Idea
First established in 1987, Dunmow have grown from a small, family run business into one of the largest independent waste management companies in Essex. Having started with just one lorry and a handful of skips, they now offer a full range of waste management services, including skip hire, hazardous waste disposal and recycling.
As a result of their rapid growth, Dunmow felt their branding needed an update. They wanted something cutting-edge and professional; something which would reflect their standing in the industry.
Dunmow's core values are still very much the same as when they were a small business. Due to this, they felt it was important to stay true to their original colours and keep the premise of the D icon. They did, however, want to develop and modernise the brand. They also wanted to update the font, making sure it used a strong, bold typeface.
The Process
The new branding took the best part of three months to develop and was led by both Josie Francis, Head of Graphic Design at Adtrak, and Caroline Hill, one of our talented Graphic Designers.
To avoid moving completely away from their original branding (image two), they removed the green and focused on a bold, fresh orange colour palette. The D shape was kept in the form of an abstract geometric pattern, which both reflects the image of the brand whilst also giving Dunmow a much more striking and up-to-date feel.
The use of triangles within the logo and branding represents power and action and, when presented in an icon bound together, demonstrates the organised and professional nature of the company.
The secondary orange geometric graphic, as shown in image three, breaks out of the hexagon shape and is a strong visual statement and perfect complement to the logo.
The Result
Dunmow are extremely happy with the finished result, saying Adtrak are simply "amazing". 
The new logo is incredibly striking and ensures Dunmow look professional and dedicated to the high standard of service they provide. The eye-catching design will be used across their website, fleet of vehicles and accompanying literature, ensuring consistency and a cohesive brand image.
Xavier Hodgetts, Dunmow's Account Director at Adtrak, said:
"It's been a pleasure working with the team from Dunmow. Whilst their old branding had served them well over the years, it was the right time to rebrand as the direction of their business was changing. The new branding looks fantastic and is in line with Dunmow's plans for future growth."
Visit the Dunmow Waste website: http://www.dunmowwaste.com/