Last week, we hosted a fantastic digital marketing event in collaboration with Google and RWM, the UK's leading recycling, water, energy and waste management exhibition.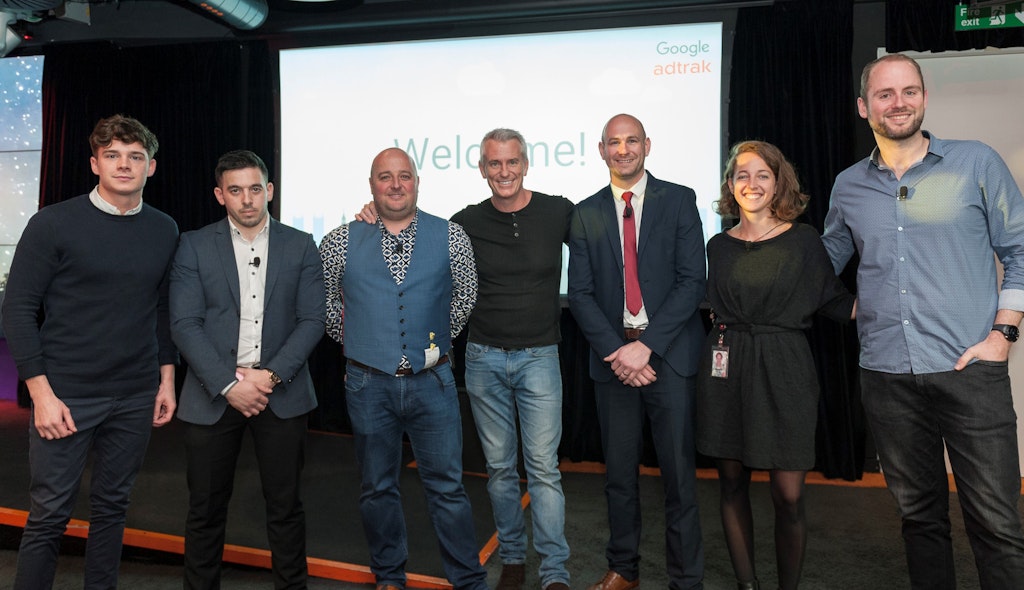 The event, entitled Digital Marketing Masterclass, was held at Google's impressive St Giles Street office in London and was attended by more than 100 RWM exhibitors. With sessions from Prysm, the new owners of RWM, Google and our very own Xavier Hodgetts, the speakers discussed the various ways waste management companies can use digital marketing to promote their brand, generate leads and increase profitability.
Mobile traffic & page speed
Camille Deniau, an Account Manager at Google, kicked off the discussion by explaining how traditional business models are being challenged due to technology fundamentally changing the future of searching for products and services. Millions of people every day are now using mobile devices to begin their search online, resulting in highly competitive marketplaces and the increasing need for successful digital marketing strategies.
Xavier, an Account Director here at Adtrak with a wealth of experience within the waste management industry, reinforced this further. He told us that currently 53% of global website traffic comes from a mobile device – and data experts have predicted this will skyrocket over 2018 to 79%. This means it's more important than ever for businesses to invest in website design that functions seamlessly across all devices.
Similarly, as online habits have increased, so has user expectation. "People are impatient when it comes to searching online," said Xavier. "In fact, research has shown that if your website takes longer than three seconds to load, 53% of people will abandon it completely. That's a staggering statistic and means that a slow website could mean you're missing out on hundreds of leads."
Wim Wauters, Head of EMEA Partner Enablement at Google, cemented this further saying that page loading times can "make or break a mobile experience".
Video content
Both Adtrak and the team at Google agreed on the importance of video content in today's digital landscape. Wim said it was a great way for businesses to expand their reach and amplify their message. Xavier continued this theme, stating that 90% of people think video actively influences their buying decisions. In addition, Xavier revealed that research has shown that placing a video on a landing page can increase conversions by 80%. "That's a statistic you'd be mad not to pay attention to," he said.
Xavier's session at the Digital Marketing Masterclass looked at a variety of ways businesses can gain more exposure online, from Google paid advertising to social media and video content. "You should be using a combination of it all to reach and engage with your target audience," he concluded. "All of this will form your marketing strategy – including all of the events you attend and everything you do online. It should all work hand in hand to deliver real, measurable success."
The future of RWM
Our Digital Marketing Masterclass was also a chance to see what Prysm, the new RWM owners, had planned for the future of the exhibition.
Nick Woore, the new Event Director for RWM, and Hassan Allan, their Marketing Director, discussed their background in exhibition planning and the changes they will be implementing to make RWM a greater success. This included heavily increasing the speaker content and implementing their SMART Exhibiting process, put in place to help exhibitors market their presence more effectively.
The importance of digital marketing
Chris Robinson, our MD here at Adtrak, attended the event and said:
"The Digital Marketing Masterclass was a massive success. It was our third event like this at Google and it's always great to get like minded people in a room and give them advice that will help their business to grow online.
The main takeaway from the event was that it is no longer just advisable for businesses to be implementing a digital strategy, but necessary. As more consumers go online in the hunt for products and services, it is vital to cater to this need and ensure your brand is visible, accessible and engaging."