It's the end of November so t'is the season for the big brands to bring out their Christmas adverts! This year, we are seeing something very refreshing: brand voices that appear to have grown sentience and are now talking to each other!
For years, brands have been spending mega bucks trying to tug at our heartstrings and make us feel things in the hope we'll spend a lot of money. The likes of John Lewis have done a great job over the years of moving the general public to tears. I've always found them too schmaltzy and cynically over-sentimental, but maybe I'm a bit of a grinch.
There was always going to be a breaking point somewhere and that came in 2018 when John Lewis reportedly dropped £7m on their Christmas advert featuring superstar, Elton John. It was a nice advert but the ultimate message was confused and wooly. Position that next to Phil Beastall's 'Love is a gift' that was released in the same year to prove that strong messaging doesn't need a hefty price tag to make a message land.
Christmas ads in 2020
With 2020 being the year that the world turned upside down, those of us who enjoy the big brand's Christmas ads have been waiting to see what they have to show us in the face of new challenges.
For me, John Lewis' Christmas advert was a perfect example of 'done is better than perfect'. It is a mish-mash of multimedia shorts showing acts of kindness, supposedly inspired by the many acts of kindness shown by people throughout the Coronavirus pandemic. Shame none of the characters wore a mask in the bus scene.
I think John Lewis knew their advert was weak in comparison to the extravaganzas they have launched in previous years by coming out the gate with excuses about how they very nearly didn't run it this year as they weren't sure the mood was right (Source: The Drum). However, I do hope that their charity pairing with FareShare and Home-Start is bolstered by the campaign and you can learn more on their website https://www.johnlewis.com/content/give-a-little-love
John Lewis usually capture the bulk of the Christmas advert chatter but this year, the advert that is getting all the attention this year is actually from Sainsbury's.
I love the Sainsbury's Christmas advert
I cannot speak highly enough about Sainsbury's first of three Christmas adverts. I love how under-produced it is. Sainsbury's clearly has taken a leaf out of Phil Beastall's book! It pieces together a family's Christmas day videos with pictures, laid under a telephone call - the only way most of us have been able to communicate with our nearest and dearest this year. Not only was it very real with the daughter's voice so clearly wishing to be home for Christmas, it is the dad's funny and embarrassing song that made me smile and think about my own dad's silly antics. It takes a lot to make me smile and then feel sad so quickly as like many others, I'll not get to see my own family this year. Bravo Sainsbury's, you nailed that advert.
It's such a shame that few people seem to be talking about how good the actual advert is though, as it's been overshadowed by terrible racist comments with threats to boycott the retailer. Fortunately, many have rushed to defend the retailer for their inclusivity and condemn those with such awful views.
Brand voices are developing
Over 2020, brands have got chattier with each other; think Aldi and Brew Dog's recent collaboration. The social media brand voice has developed from shouting into an empty room to awkward conversations with real customers to helpful interactions right through slick burns dished out to competitors in hilarious flame wars.
And for Christmas 2020, brands have gifted us something new, examples of just how we as social media users can finally stop chatting about #bekind and actually live it. Waitrose did it beautifully with this tweet supporting Sainsbury's this week.
We want to #GiveALittleLove @sainsburys - we love that your Christmas ads are representing a modern Britain and highlighting the diverse range of communities we have in our country. pic.twitter.com/APakyt6bRj

— Waitrose & Partners (@waitrose) November 17, 2020
This tweet from Waitrose supporting their competitor, Sainsbury's isn't a one off for brands showing their support for each other at difficult times. At the start of November, Burger King tweeted their followers encouraging them to support the restaurant industry and that included their competitors.
We know, we never thought we'd be saying this either. pic.twitter.com/cVRMSLSDq6

— Burger King (@BurgerKingUK) November 2, 2020
And now, in the face of the horrifying racist backlash that Sainsbury's received for featuring a Black family in the first of their series of Christmas adverts, all the big supermarkets have united and taken their message from social media to the television, uniting to #standagainstracism.
Tonight, (27 November 2020) Channel 4 will air an anti-racism message from all the best known supermarket brands in a collective show of brand support for Sainsbury's in between Bake Off: An Extra Slice and later on in the ad break for The Last Leg.
The brands can see that this is an issue far bigger than any old rivalries and it's great to see that in a relatively short space of time, brands can and will work together to share their views and their values - going beyond just a kind or supportive tweet.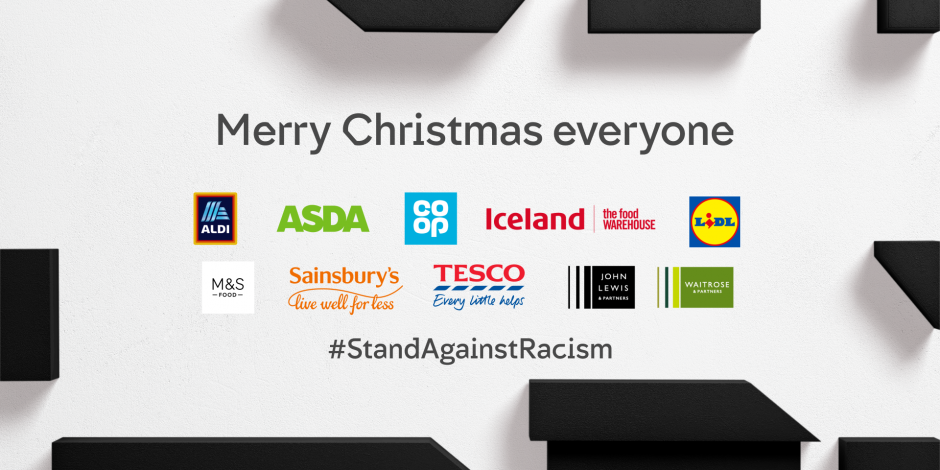 The conversation is maturing
I recall the awkwardness of even trying to get a single tweet approved as a social media manager back in 2012 because social media marketing was so new and risky, nobody wanted to put a foot wrong. I recall my own nerves at reaching out to twitter users as the expectation for conversations to happen between businesses and customers wasn't quite there yet. Over the years, conversations changed from just functional to also fun as well. To see brands responding to customers and now each other in such a natural, human and kind way, is absolutely brilliant.
Now they're taking the next step again - walking the walk with their brand values to be inclusive, to be kind and showing us how it should be done. .
It feels like an understatement to say that 2020 has been a difficult year. Everyone has been hit by loneliness in one way or another, has needed to ask for help from friends and neighbours… the nation it seems, is a little delicate and needs a big hug. Brands have read the room and are responding loud and clear to the appetite for kindness and good feeling that Christmas can bring. I look forward to seeing more examples of brand-to-brand kindness as the world gingerly steps out of their homes and back into a world with face-to-face interactions and that first hug with loved ones after a hard Christmas apart.