Executive Summary:
As of 1 November 2020, any users of the Google Ads platform will incur an extra 2% charge on their bill.
Why is this? Well...
It has been well documented that digital companies such as Google and Amazon, despite operating in the U.K, have not necessarily paid a proportionate share of tax on their respective revenues. In an attempt to rectify this, the Government brought in a new measure, entitled: "Digital Services Tax". In their launch of the new policy, the Government summarised:
"From 1 April 2020, the government will introduce a new 2% tax on the revenues of search engines, social media services and online marketplaces which derive value from UK users."
When speaking about who this tax will most likely affect, the Government said "large multinational enterprises", would be the ones most heavily affected, with the new tax only applying to a select number of companies whose "worldwide revenues from these digital activities are more than £500 million and more than £25 million of these revenues are derived from UK users."
However, this is not necessarily the case, because Google Ads Customers received a notification from Google on the 1st September 2020, stating:
"On 1 November 2020, Google will begin charging new fees for ads served in the United Kingdom (Alongside Turkey, and Austria)."
Essentially, from 1 November 2020 Google is passing those costs on to the advertisers who use their platform. We're not happy about it either, but unfortunately this is now an unavoidable cost of using Google Ads, and something to take into consideration when investing in advertising on the platform.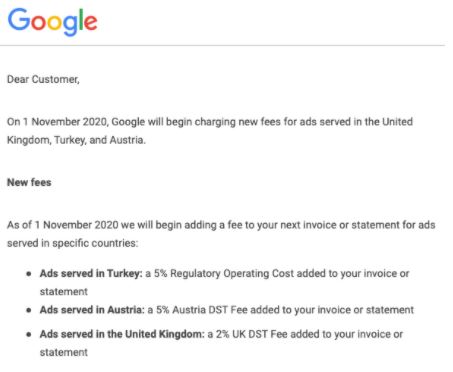 So how does this affect you and your monthly invoice?
To put it into real terms, for example, if you have a budget of £100 and accrue £2 (2%) in DST Fees for ads served in the UK, you'll be billed £102 (plus any taxes, such as VAT, that may apply in that country).
This is a significant change and addition by Google, and provides users with something else to take into consideration when budgeting spend on their Google Ads campaigns.
More in depth information about how the tax is specifically calculated can be found on the Google Ads Support platform.
Other companies following suit and passing the costs on to the advertisers include:
Amazon - when using their in-site Advertising platform.
Apple - when using their iOS Search Ads.
Companies not following suit:
Facebook, at the time of writing, are currently not planning to pass on the 2% DST to their users, as they wish to be viewed as a friend to small businesses. A Facebook spokesperson was quoted in an article in The Telegraph saying:
"At present, we don't intend to pass on the costs of the Digital Services Tax incurred by Facebook to our UK customers". - Source
This may well change, however, depending on advertisers' spending habits over the coming months and ultimately Facebook's bottom-line.