Earlier this month, three of my fellow web designers and I were lucky enough to embark on Adtrak's first ever overseas web conference, when we attended CSSConf EU in Berlin, Germany.
Now in it's fourth year, CSSConf EU is a highly acclaimed conference that attracts some of the best names in the industry, with this year being no different.
Speaker circuit veteran Rachel Andrew, site-speed spearhead Patrick Hamann, and CSS magician Una Kravets were among a wonderfully diverse list of speakers, each bringing something different to the table.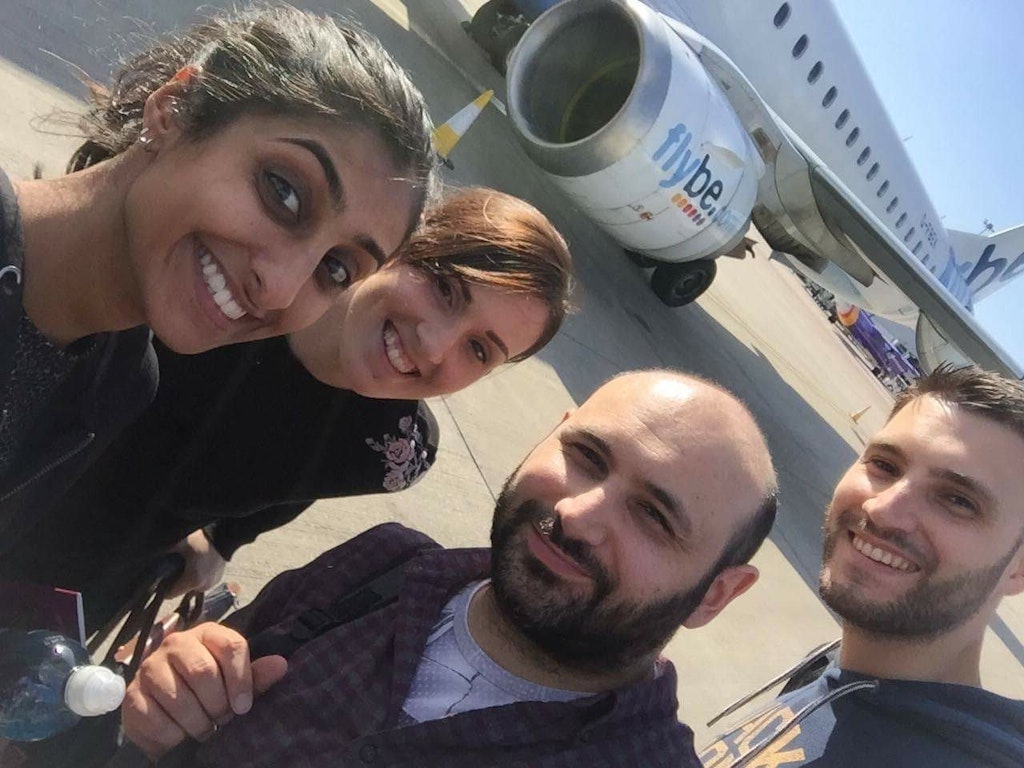 The Venue
Arena Berlin played host to the event; essentially a vast warehouse transformed into the most impressive of setups – as you'll see from the pictures. A substantial food court, sponsor stands handing out free stuff every few yards, a frozen yogurt truck, table-football, giant bean bags, a photobooth… even swings hanging from the ceiling! CSSConf really did deliver – and I haven't even got to the free beer yet!
Of course though, a good conference needs substance as well as style, and fortunately this was delivered in abundance, too.
CSS and the First Meaningful Paint – Patrick Hamann
The first talk that really resonated with us was Patrick Hamann's "CSS and the First Meaningful Paint". We've dedicated a lot more time to website speed recently at Adtrak, both in terms of research and putting processes in place to ensure our sites are as optimised as possible. Subsequently, this talk was of particular interest to us.
Patrick, formerly of The Guardian, spoke about how document load times aren't really the best way to measure the speed of a web page as this doesn't tell the full story. Instead (or as well as), we should look at the "time to first meaningful paint" – this being the time until the user can see something usable in front of them; essentially when the "above-the-fold" portion of the layout has loaded.
WebPageTest's video capture timeline feature is an excellent tool to help measure this, as it shows exactly how much of your web page has loaded after each millisecond.
Get Ready for the Future of CSS – Guil Hernandez
Another one of the talks we all enjoyed was "Get Ready for the Future of CSS" by Treehouse's Guil Hernandez. Guil discussed a number of CSS modules that have been on the horizon for a few years now, which are moving closer and closer to mainstream use. On the agenda were Custom Properties (essentially native CSS variables), Compositing & Blending (Photoshop style blending modes), CSS Shapes (most useful for floating text around irregular objects), CSS Clip Paths (masking in CSS), Selectors Level 4 (lots of fun, new pseudo-classes) and Feature Queries (native feature detection).
I researched many of these exciting new modules five whole years ago now for my book that very much focused on the cutting edge of "CSS3" (a seamless plug there I'm sure you'll agree!), and it's great to see how much further they've come in that time. Many of these features are very well supported now so can even be used freely on production sites as long as they're being utilised as progressive enhancements.
Let's Build a CSS Game – Una Kravets
A conference packed full of insightful talks perhaps saved the best 'til last, as Una Kravets pushed the boundaries of what CSS is capable of as she live-coded a fully interactive game using only CSS. Obviously this kind of talk isn't going to be full of practical takeaways, but in terms of sparking creativity and broadening your mind as to what you can achieve with CSS, there's nothing better.
It was a highly impressive demonstration, particularly as it was live-coded in 30 short minutes, and you certainly left feeling inspired to try something similar. I can tell you that these types of experiments, whilst having little real-world application, are the best way to learn CSS and the limits to which it can be pushed.
With the talks done, we were able to unwind with one or two beverages in the FREE BAR before our flight home the next morning.
All in all, our first overseas conference was a great experience, and I'm sure it won't be our last!