Last month, our Strategic Marketing & Sales Analyst, Leena, attended the D2N2 Digital Conference & Expo in Nottingham, which showcased the latest digital developments and technologies for local small and medium sized enterprises (SMEs). Hosted by Digital Growth Programme, East Midlands Chamber, the day featured guest speakers from different areas of the digital world, from paid digital advertising to effective SEO and social media. It provided a forum for like-minded businesses to ask questions to business support providers and learn more about how they can stand out against the competition in online searches.
Armed with a notepad and pen, Leena discovered the latest developments in social media (including the use of Facebook groups as a way of engaging with customers), what's new in online search, and how SMEs can make their budgets go further by using paid-for social advertising. Here are just a few of Leena's key takeaways from the day…
Think outside the box
Renowned public speaker Dean Johnson was the keynote speaker and kicked off the event with the most fascinating topic: "Pushing Digital Boundaries".
He emphasised how VR has transformed media and marketing, explaining the connection between VR and AI. The two elements have grown in importance for a variety of sectors, especially in the training and education industries. As such, Dean urged people to push boundaries in this respect.
The real-world benefits of VR were highlighted in an example, with courier company DHL successfully using VR tech to improve their warehouse operations.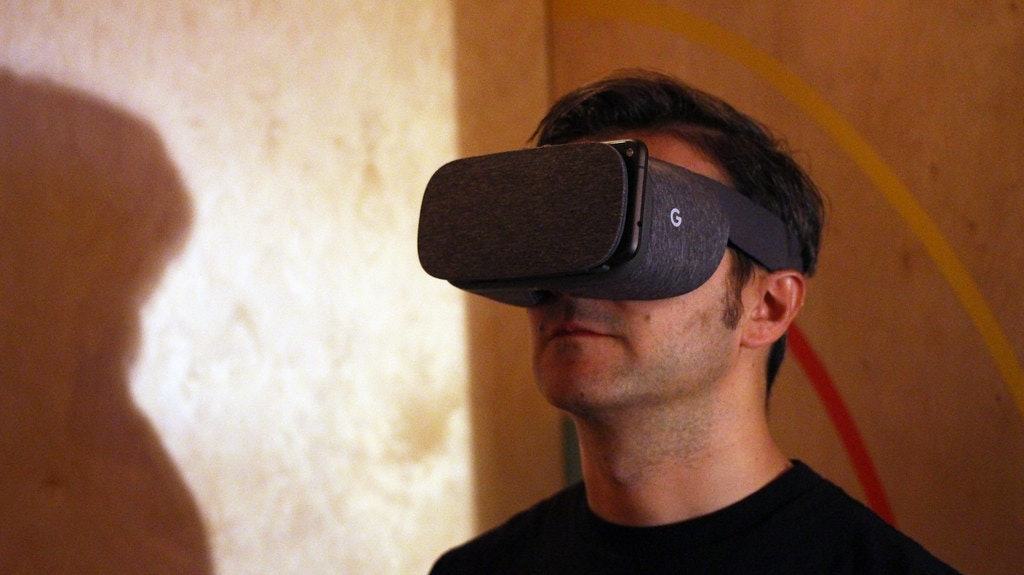 Growth of Artificial Intelligence
Integral to the global workforce, artificial intelligence is quickly becoming prominent in how businesses operate. As such, Rob Gregory, an expert tech consultant, discussed how AI will transform marketing in the next five years to allow small and medium-sized businesses to create solely data-driven marketing campaigns.
He went on to cover the history of artificial intelligence, noting the difference between AI and ML (Machine Learning). AI, he said, can be used by marketers for their campaigns, plus, we already use AI in our daily work through things like search, smart assistants and security tools.
Some of this talk looked at what was around the corner in this area. AI for Robotic Process Automation, chatbots, voice search and predictive analytics all touted to grow in importance. Chatbots, in one instance, created their own language but had to be shut down when it was realised that humans could not understand it.
The presentation was capped off by Rob's own prediction for where AI will be in 5 years time:
"By 2024 Artificial Intelligence will no longer be a buzzword. Machine learning will be put into all marketing tools and services."
Effective SEO in 2019
Ian Lockwood, a founding director of a digital agency spoke about the importance of SEO – putting emphasis on the fact that basic SEO still counts for a great deal.
Ian covered a range of topics including explanations of Google-Lazy loading, Google Medic update and Rank Ranger data while pointing out the importance of E.A.T mantra: Expertise, Authority, Trust. He also gave an overview of other topics such as technical SEO, user experience, content quality and Google cloud natural language.
Paid Digital Advertising
Ann Stanley, renowned for digital strategies, discussed how the UK spend on advertising increased from 52.2% in 2017 to 57.3% in 2019.
Key statistics from 2018 included the growth in smartphone advertising, video advertising, and social in-feed advertising. She also spoke about the value of different marketing channels, advert formats, choosing objectives and targeting methods for campaigns to get desired results.
What else was covered?
Talks also included:
The ways in which businesses could utilise social media groups to foster greater loyalty, advocacy and possibly even sales

The ways in which our health and wellbeing is of utmost importance in the digital age, particularly when as we are overrun with the fast-developing wonders of our era
At Adtrak, we're always keen to learn more about developments in our industry and discover what the future has in store – we look forward to seeing what's next!