At the beginning of the year we welcomed Jess Goodridge to Adtrak. Jess was our very first graduate intern, joining the Copywriting team for six weeks. Below, Jess has written a post giving insight into her time at Adtrak, and her experience of internships in general. We thoroughly enjoyed having Jess on board and wish her all the success for the future!
"As a recent graduate, university student or someone looking to advance their professional career, it can be difficult to figure out exactly where you want to go next. In addition, finding the right experience can sometimes be tricky – particularly if you don't quite know what you're looking for. As such, internships can be a great starting option; you gain valuable experience, meet new people, and get a feel for a brand new working environment.
However, internships sometimes get a bad reputation – perhaps associated with elongating the job process and completing simplistic tasks. Happily though, the internship I completed with Adtrak was a thoroughly positive experience, so read on for a few things I picked up on as the newest member of the Adtrak team.
Interesting and varied work
From the first day, I was trusted with writing all manner of copy. This included articles for clients, pages for new websites, transcripts, location pages, handbooks, leaflets, brochures and more. It was a great learning curve, as well as being enjoyable to spend the days writing. Thanks to the varied briefs – with clients working from concrete companies to removals companies, catteries, glass specialists, interior designers and more – there was always something new and challenging to work on each day.
Inter-departmental meetings
Based mainly in the Copy department, it was good to see where your finished work ended up, and how each department works together to meet the needs of Adtrak's clients. Some meetings I attended were the social roundups (where new developments in social media were shared) and client strategy meetings (where we planned a client's article titles for a year). The Copywriting, Photography and Graphic Design departments also host a 'Pow Wow' meeting on a Friday, for sharing interesting projects happening across the creative industries.
Lovely colleagues
One of the first things I noticed was how nice the staff at Adtrak are; although busy with their own work, it's rare that half an hour will go by without someone offering to make a round of tea or coffee, and there was always someone willing to answer any questions. My first points of contact at Adtrak were Fiona, who is Head of Copy, and Rachel, the HR Advisor, who thoughtfully prepared a desk space for my first day, and made sure my time was interesting, including organising time spent with other departments.
I joined Alasdair from the Photography department on a shoot for a client, as well as spent time with Harriet from Internet Marketing, who gave me an overview to the magic behind Adtrak's digital marketing strategies. I also created adverts for a client thanks to Andy from the Paid Marketing team, and was shown the basics of web design by Becky, one of Adtrak's talented web designers. It meant for a very well rounded experience, gaining an insight into the business as a whole.
Office was a nice place to work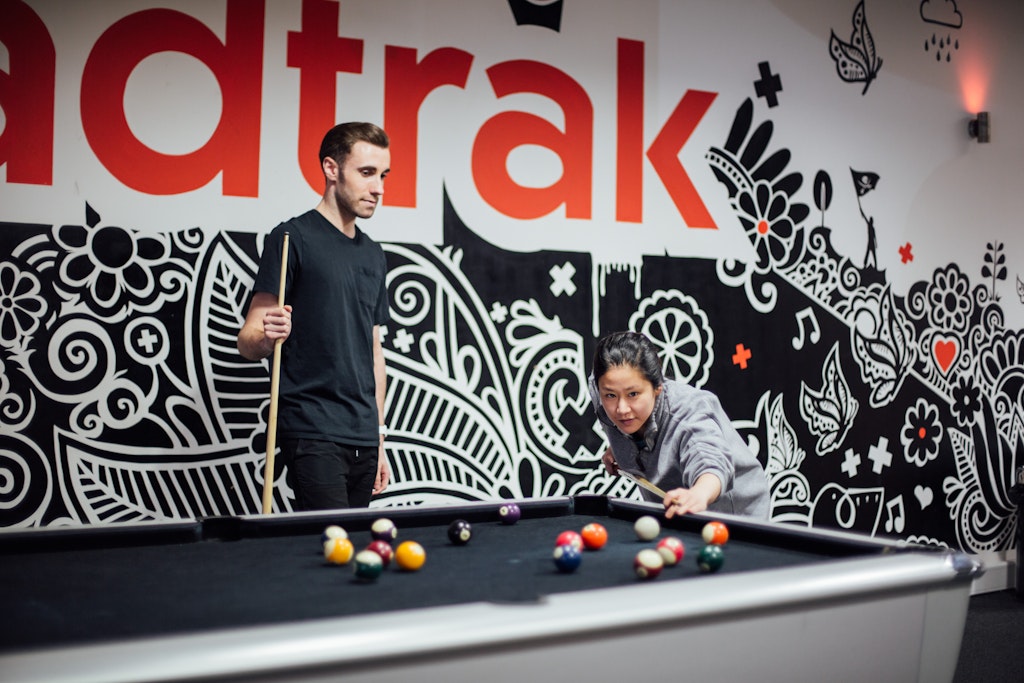 Adtrak's office is a colourful, open-plan space, located in the centre of Nottingham; it smells like coffee in the morning, and the sound of typing was always a welcome way to start the day. Lunch breaks were spent playing pool with my copywriting colleagues and, in later weeks, trying out the new ping pong table.
Many little things helped to create an environment you enjoyed coming into in the morning, including 'Fruity Mondays', where fruit was provided on a Monday morning for the whole office, yoga every Thursday, a monthly movie night, and even a bookshelf from which to lend and borrow books.
All in all, working as an Adtrak employee for 6 weeks was a wonderful way to start 2018, and has already led to job offers going forwards. Not only this, but I've improved my copywriting skills, met some lovely people and found a way into what can be a very competitive industry."