Last week, Geoff and I were excited to be invited to Google's H1 Product Kickoff! Exclusively for Google Premier Partners, the bi-annual event gives us a valuable insight into Google's plans for the next six months, including all the new AdWords and Analytics features.
The day started with a (slightly delayed) train from Nottingham to London. Despite this, we easily found our way to Google's impressive new King's Cross office – and even found time to take a few photos of their amazing architecture whilst waiting to be ushered into the presentation room.
We were met by a really friendly Google representative who gave us our name badges and directed us to the lift. This gave us a fantastic aerial view of the office and the amazing post-it art on display, with characters such as Moe from the Simpsons and Pac-Man featured on the glass windows.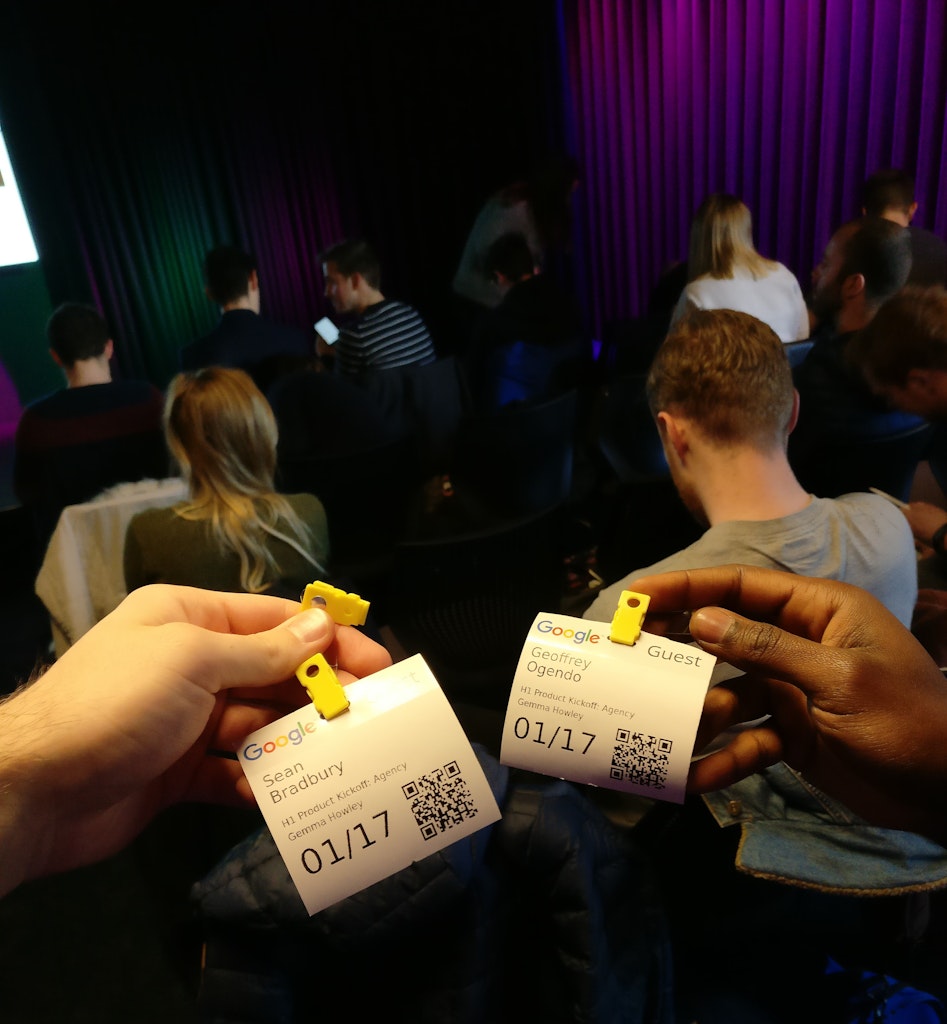 The morning session went by like a flash and, although we can't go into detail as most of the information was confidential, we've outlined some of the product features that have already been released in all markets.
AdWords – Improved target eCPC & ROAS
Google stated that, when using the eCPC, there's now a much clearer goal and the strategy should have a bigger impact on your account. The algorithm now adjusts your bids for every single auction, with the aim of achieving more conversions at your current CPA, while keeping your average cost per click lower than your manual maximum cost per click.
As this new algorithm takes various signals into account, there's no need to use bid adjustments for differences in conversion rates. The only exception would be the mobile device bid adjustments.
Similarly, the tROAS algorithm has had an update and will model the expected conversion value in each and every auction. This strategy will also take into account all Adwords Smart Bidding signals.
AdWords – Customer Match: Mailing Address & Phone Number
You can now increase your match rate by uploading your customer data, such as their address and phone number. Once you've uploaded this data into the system, Adwords will match the data to the Google ID associated with a given account. You can then target these lists on Google Search, Shopping, YouTube and Gmail. This will be a great way to tailor your creatives to a very specific audience.
Youtube – Desktop Video Masthead 3.0
With the depreciation of Rich Media Masthead, Video Masthead has been globally launched and is being touted as Google's single and simple solution to driving awareness on the YouTube homepage. On desktop, Video Masthead has had some great improvements, such as:
Canvas that's up to 50% larger than before

4 new native templates & more visible CTAs

It's easier than ever to create a full Masthead campaign – this can be done in less than 5 minutes

Expected time to traffic has reduced from 2 weeks to 2 days

No more upcharges for 360 or livestream
Audience – Custom Affinity 2.0 For YouTube AdWords
Custom Affinity 2.0 gives you the ability to create custom audiences by introducing Google Search, Google Maps location history and Android app data inputs. This means that your YouTube campaigns in AdWords can now have better, highly targeted audience lists that match your ideal customer profile and can result in better conversion rates.
The above is just a snippet of what was revealed on the day. However, these are the features that stood out the most. We look forward to the next product kickoff and whatever new exciting features Google will release to enhance their various marketing platforms!